POD would make a stop at The Castle Theatre in Bloomington Illinois on July 2nd 2015. In support would be up and coming From Ashes to New and Islander.
Starting things off would be a band that should be on everyone's watch list, From Ashes to New. The Lancaster Pennsylvania rock band, which was formed barely two years ago, consists of six musicians who at some point have all played together in some aspect in different bands in the Lancaster area. You could say From Ashes to New consists of the best of what the Lancaster music scene has to offer. The sextet consists of Dan Kecki and Branden "Boo" Kreider on guitar, Garrett Russell on bass, Tim D'onofrio on drums and a vocal tandem of Chris Musser and Matt Brandyberry. If you have yet to hear this band their sound is a cross of Hollywood Undead lyrically and Papa Roach and Linkin Park sound wise. A perfect mixture of hard hitting rock and hip-hop. From Ashes to New or FATN would come out swinging with the song "My Fight" and they wouldn't stop swinging until the end of their set some twenty-five minutes later.  At that point, I was left wanting their set to keep going.  It was that good. Their set was very energetic and interactive as Musser, sporting white Marilyn Manson-esque contacts, and Brandyberry would interact with the crowd throughout the set. Brandyberry even left the stage at one point and went out among the fans as he flowed on the microphone while fist bumping and giving high fives to fans along the way. I would definitely see this band again and would recommend to anyone to pick up their two EP's which you can find on Google Play and Spotify.  Or you can do what I did and support the band and buy them from them directly at one of their shows.
Watch our exclusive interview with Matt Brandyberry and Chris Musser of From Ashes To New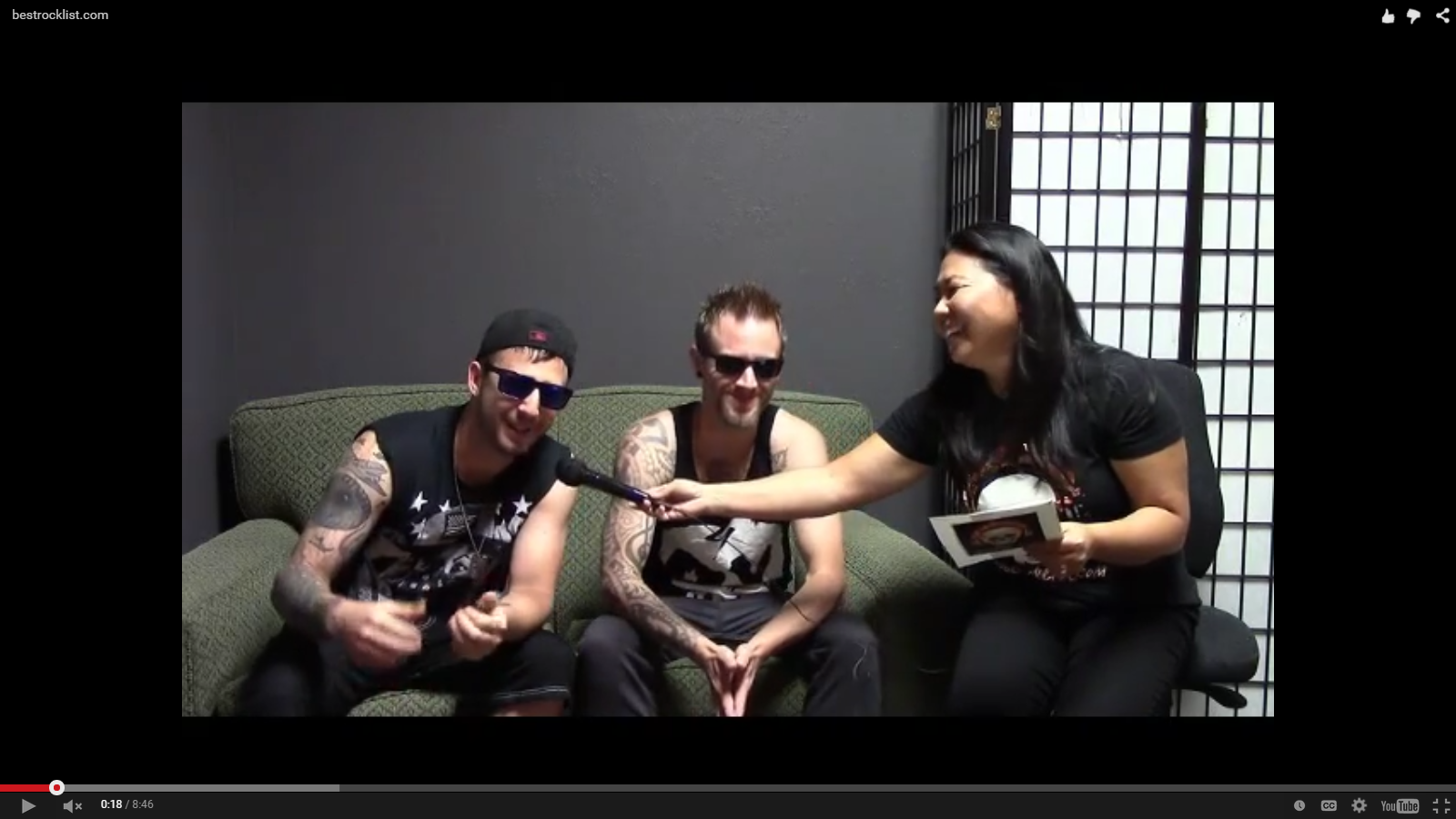 Next up would be Islander, who was founded in 2011 and hails from Greenville, South Carolina. They are currently touring in support of their studio album Violence and Destruction which was released in 2014. While the band has gone through some lineup changes over the last year or so you would never know it by their performance. They sounded like they have been playing together since the group was formed in 2011. Islander consists of former RED drummer Joe Rickard, former Spoken bassist Ryan Pei, Love and Death guitarist J.R. Bareis , and mainstay vocalist Mikey Carvajal. Islander's sound can be hard to pinpoint since it falls in several musical categories, but three bands that come to mind after hearing their cd and then seeing them live would be 311 and Rage Against the Machine with a hint of Deftones.  Islander played a fantastic set which included ten songs from their aforementioned album Violence and Destruction. The energy of Islander's set was relentless and at one point consisted of Mikey Carvajal standing atop the crowd as he sang and interacted with them the entire time and also consisted of two boys who could not have been more then nine or ten years old trying their hand at crowd surfing. I kept thinking they weere going to fall but thankfully they never did. Speaking of things I rarely see, lets just say i've never seen a guitarist sport a blue with purple polka dot (think Sully from Monsters Inc) dinosaur tail until J.R Bareis walked out on stage. Overall, I thoroughly enjoyed Islanders set as it brought me back to the times when Rage Against The Machine ruled the airways while also having the hard hitting rock, nu metal sound of today.
After two amazing sets that got the crowd pumped up POD would take the stage and send the crowd into a frenzy. The band which hails from San Diego California consists of cousins Wuv Bernardo on drums and Sonny Sandoval on vocals. POD is rounded out by the trio of Traa Daniels on bass, Marcos Curiel on guitar, and Luis Castillo on keyboards. Also making a appearance during their set would be Sonny Sandoval's son, Justice, who would come out during "Youth Of A Nation" and play a bongo drum. You get a little of everything when seeing a POD show as their musical influences consist of rock, reggae, and hip hop. Their set would consist of eighteen songs, that while looks long on paper did not seem that way live, as they flowed from song to song and would play for close to an hour. They would start the night off with "Murdered Love" and the rest of the set would consist songs like "Boom", "Southtown", "Alive", "Satelite", and "Youth Of A Nation" that has made POD the widely band they are today. It would also include the song This Goes Out To You which is the first single off their highly anticipated conceptual album The Awakening which is set to be released on August 21st of this year.  We sat down with Marcos Curiel before their set and learned more about the album.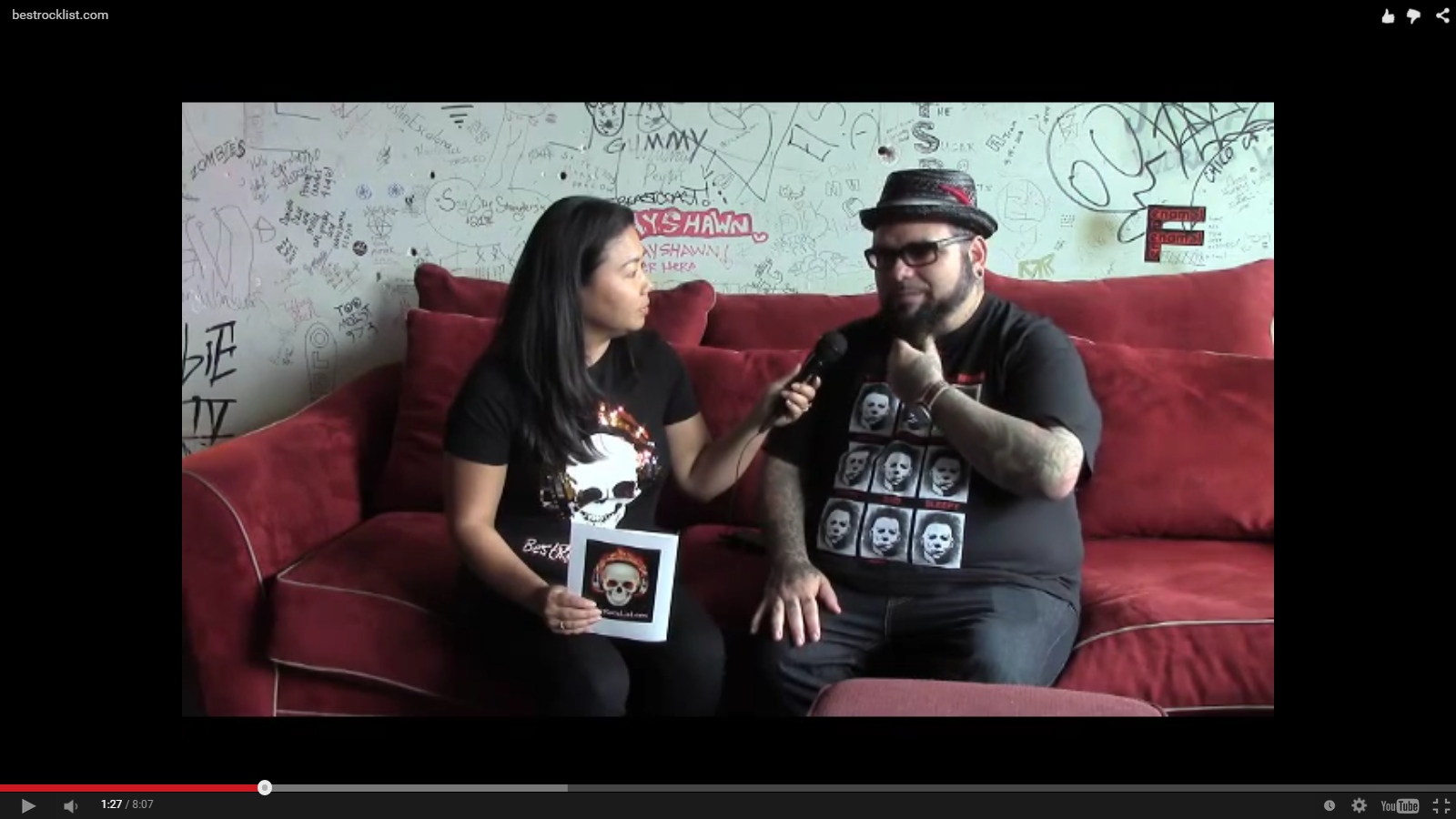 It is hard to believe that a year after I graduated from high school was when POD burst onto the music scene with the album The Fundamental Elements Of Southtown and some fifteen years later would be going as strong now as they did then. The highlight of the night came during "Youth Of A Nation" when Sonny invited any youth in the audience to come up to the stage for the song.  While there were not many younger fans in the audience that night there were those two youths that had been crowd surfing a set earlier that made their way to the stage. At one point, Sonny even handed the young boys a mic as they sang along to the chorus. After the song was over Sonny invited them to sit off to the side of the stage for the rest of the show. I talked to one of the boys moms in between the Islander and POD set and she stated that it was her sons first concert. What a experience for what i'm guessing was a boy that could not have been more then nine or ten years old. For anyone that is a fan of rock music seeing POD is a must as they definitely know how to put on a great rock show. They will be out on the road until late October so check them out when they come to a city near you.