JUDAS PRIEST
4/6/18 – Horseshoe Casino – Hammond, IN.
By Bradley Todd 
            For fuck's sake, how is it that Judas Priest is not in the Rock 'n' Roll Hall of Fame already? This is the thought that is running through my mind as the band launches into the fourth song of their set, Sinner, from 1976's Sin After Sin album, at this Friday night show at Hammond, Indiana's Horseshoe Casino, which is a Chicago venue for all intents and purposes.
All the ingredients for admission are there: the band has had incredible longevity – just about 50 years; they have a big, amazing catalog of music that includes iconic hit songs (Breaking The Law, You've Got Another Thing Comin', Living After Midnight) that have stood the test of time and are known by even non-fans, and have sold millions of albums; they have influenced countless other hard rock and metal musicians with their musical and artistic style, which, by the way, has helped define an entire genre of music – Heavy Metal; oh, and they have one of the greatest hard rock/heavy metal singers of all time…and that's not hyperbole, just fact! So seriously, WTF?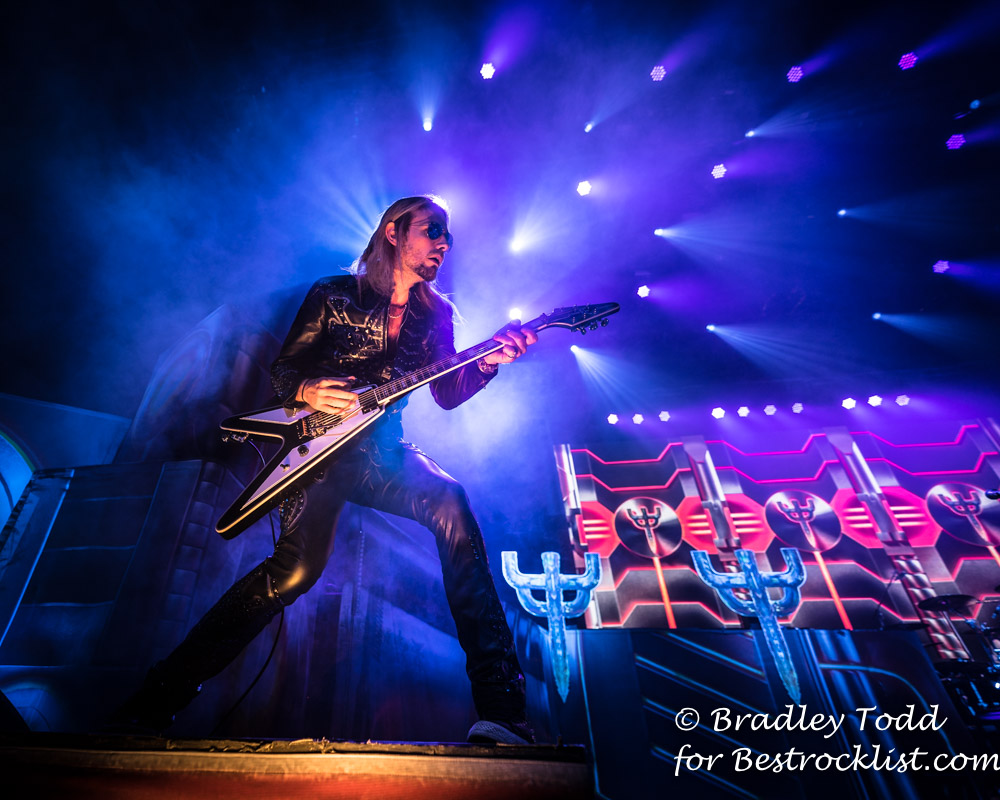 Well, none of the above affects the proceedings in the heartland on a Friday night one bit, as Priest and their large crowd of followers have come to rock. And rock they do. The tour is in support of Judas Priest's 18thstudio album, Firepower, and they show that they aren't just resting on their laurels by playing three tracks from the new release. But the rest of the setlist (see full setlist below) serves as a career retrospective of sorts, including catalog deep cuts like the aforementioned Sinner, and Grinder, The Ripper, and Saints In Hell…in addition the to hits, of course. The only thing that bothered me about this set is that it completely ignores Priest's last two albums, Angel of Retribution, and Redeemer of Souls. And this is a shame, for those albums are freakin' great all the way through and, along with Firepower, are clear proof that Judas Priest is not an oldies act out on a money grab tour. But they didn't consult me on the setlist!
The current touring version of the band has two original members in it: singer Rob Halford, and bass player Ian Hill. Original guitarist, Glenn Tipton, announced shortly before the tour started that he was bowing out of touring, due to the progression of symptoms of his Parkinson's Disease. He has been replaced on the tour by the band's album producer, Andy Sneap. The touring lineup is rounded out by drummer, Scott Travis, who, while not the original drummer, has been behind the kit for longer than any other Priest drummer (29 years), and guitarist, Richie "Falcon" Faulkner. Faulkner has been with the band several years now, coming on to replace the other original guitar player, K.K. Downing, who retired from service in 2011.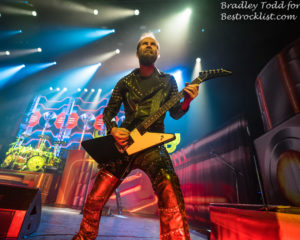 While it's disappointing not to see Glenn Tipton up there performing (though he has made a couple appearances at a few previous shows on this tour playing a few songs, like he said he might), the proceedings don't feel melancholy at all, but more like the Priest machine marching on in honor of the music. And the band does honor Tipton by featuring him on the giant video screen behind them. Andy Sneap does an admirable job of filling in for Tipton, playing solid rhythm but also getting some solo spots…about four or five, I think. It also seemed that the band has given Sneap a child's size leather jacket to wear… but it doesn't stop him from hitting all the right notes. The rest of the band runs like the well-oiled machine you would expect if you've seen them on any of their last couple tours.
While not the darling of the music industry the way it was in the 80's, this heavy metal music of Judas Priest does not get old for me, nor for the rest of this crowd, who sing along, headbang, and play air guitar throughout the band's set, which lasts about 1 hr. and 45 min. Travis is solid and steady on the drums, displaying flair, whipping hair, and a frequent smile. Ian Hill takes his familiar position back from the front of the stage, where he rocks from side to side, thundering his bass notes which occasionally shake the venue's foundation like an earthquake. While I initially rolled my eyes at the announcement of a replacement for K.K. Downing, a few albums and tours later Richie Faulkner has really come into his own, winning the Priest faithful over. He's energetic, photogenic, engaging, and most importantly, a blazing six-string gunslinger. If it wasn't going to be K.K., Priest couldn't have found a better replacement, and this is proven true as Faulkner is almost the most exciting thing going down on the stage this night.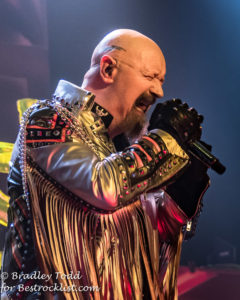 But this night belongs to the Metal God, singer Rob Halford. It's all been said about Rob before, but respect compels me to say it here again: the dude is unreal. Born with a gift of a truly searing metal voice, he's been blessed with another gift of it lasting so long, as he's now in his mid 60's. He roams the stage, working the crowd up, blasting out notes and screams like the heavy metal ambassador he is. He is a treasure to this band, and I consider it a blessing to see/hear him. Do I sound like I'm gushing? Good, because I am. Metal God, indeed.
SETLIST   (** FULL GALLERY BELOW**)
Firepower
Running Wild
Grinder
Sinner
The Ripper
Bloodstone
Lightning Strike
Saints in Hell
Turbo Lover
The Green Manalishi
Evil Never Dies
Some Heads Are Gonna Roll
Breaking The Law
Hell Bent For Leather
Painkiller
Hellion/Electric Eye
Metal Gods
You've Got Another Thing Comin'
Living After Midnight