Dreamcar
5/27/17 – The Vic Theatre – Chicago, IL.
By Bradley Todd 
            I am giddy. The kind of giddy you feel when you meet somebody new and feel an immediate attraction. The way you feel when you talk to a new love interest for the first time and sense sparks of chemistry in your conversation. The kind of giddy you feel with long winded conversations with no lulls, but also lengthy eye contact without any words spoken. Holding hands…a first kiss…and beyond. All of it.
The object of my affections? Dreamcar.
It was only a few weeks ago when I had fallen asleep with the TV on, only to be awoken by a musical performance on the Late Late Show (w/ James Corden) by a band I didn't know, but was immediately moved by… while wiping the sleep from my eyes. The song had an emotional urgency to it. The vibrant band bounced and rocked, breathing the vibe of the song. I only heard half the song (Kill for Candy)…but that was enough.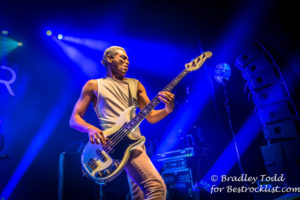 I bought Dreamcar's new, self-titled album, their first, upon waking the next morning. And I have enjoyed the hell out of it since. 12 tracks – all killer, no filler. It brings me to the emotional space that has been filled in the past by great bands such as Duran Duran, The Smiths, The Cure, Psychedelic Furs…and more recently, The Killers.
Despite being a debut album from a new band, Dreamcar are anything but rookies in the music game. The band is comprised the members of No Doubt, minus Gwen, with singer Davey Havok from band AFI. And in Davey, Tom Dumont (guitar), Adrian Young (drums), and Tony Kanal (bass) have found the perfect person for this new musical venture, as was obvious at Chicago's The Vic Theatre on May 27th, the final stop of the band's recent tour.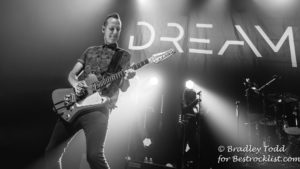 While the group is new, the presentation and performance is well honed and tight, the chemistry undeniable. Despite playing the intimate Vic Theatre, the band brought a full production of sound and stage, including a keys player and two background singers to round out the sound…and it paid off in the performance. The band played every song from their debut album perfectly, albeit in a different running order, as well as David Bowie and INXS covers, ultimately closing with their single that hooked me in, Kill For Candy (full setlist below).
While Tom, Adrian and Tony laid down grooves that propelled this show with energy and enthusiasm, Davey Havok was the emotional face of this performance. I don't know much about Davey Havok, other than the fact that he just might be my new favorite singer. A strong baritone, Havok presented with style reminiscent of the 40's, wearing a gray suit and monochrome rust red shirt and skinny tie, along with a retro, mop top hairstyle and pencil thin moustache. But style aside, this dude can sing. His vocal performance was strong and flawless. And Havok doesn't just sing songs, he delivers them dramatically, acting out the emotions of each line skillfully and with sincerity…to the point that I was unsure if I was watching a singer in an actor's body, or vice versa. When he looked a crowd member in the face during the song Do Nothing and sang "You do nothing for me…" he paused for dramatic effect before repeating "Nothing!" And I believed him.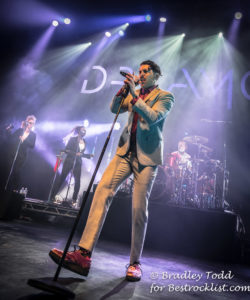 One other thing I must mention that contributed to my enjoyment of this fantastic show: the sound mix. It was straight up stellar. I can't recall ever hearing better sound at any concert, at any other venue. Each instrument was crisp and clear, and each vocal – lead, as well as background – front and center with out any distortion…so kudos to you, Mr. Soundman!
SETLIST  ** FULL GALLERY BELOW** 
After I Confessed
The Assailant
Born to Lie
Slip On the Moon
The Preferred
Moonage Daydream
On the Charts
Do Nothing
Ever Lonely
Don't Let Me Love
All the Dead Girls
Don't Change
Show Me Mercy
Kill for Candy