Spring Fling
May 19, 2017
Peoria Riverfront
Peoria Illinois
This years 105.7 The X Rocks Spring Fling felt more like fall as the weather dipped into the 50 degree range with overcast skies, a nice breeze, and rain in the forecast. That didn't stop close to 3,000 rock fans from coming down to the Peoria riverfront to attend the show. This years lineup would consist of Sylar, Starset, Alter Bridge, and headliner Skillet.
The first band to greet the crowd was Sylar out of Queens, NY. Prior to the show I had not heard of Sylar, but after seeing them live it's safe to say that they have gained another fan. They brought tremendous energy to the stage and sustained that throughout the entirety of their set. They were the perfect band to start the show and get the crowd moving on a chilly night. Their sound reminds me of a cross between Killswitch Engage meets I Prevail, with a touch of POD. Jayden Panesso and Miguel Cardona compliment each other nicely on vocals. Jayden is able to capture your attention with his screams while Miguel hooks you in with his ability to slow it down during the chorus. Rounding out the band is Dustin Jennings on guitar, Travis Hutton on bass, and and Thomas Veroutis on drums. If you wanna catch Sylar on tour your're in luck as they will be out all summer long on the Vans Warped Tour. If you can't make a stop on the Vans tour i would highly suggest picking up their album Help!.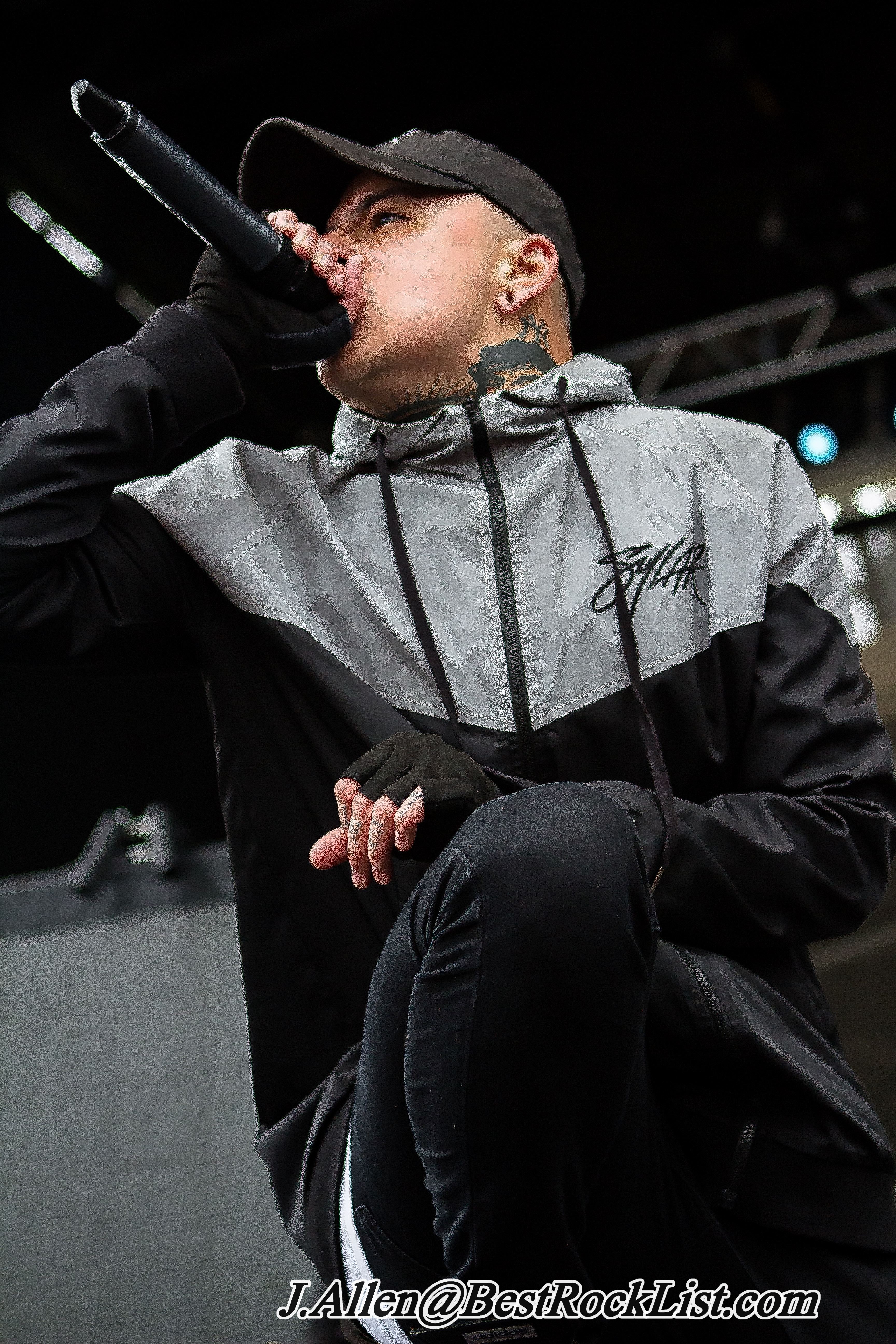 There aren't many, ok any, bands that refer to their sets as demonstrations but that's exactly what you get when you catch Starset. This was my second time seeing a Starset demonstration and it was just as great as the first time I was able to see them. The thing that sets Starset apart from everyone else out there is their sci-fi set production complete with each backing band member sporting space gear with chest plate lit by LED's as well as space helmets that are also lit. While it was still pretty light out when they performed and you couldn't really get the full effect of the lights it was still amazing to watch. Front man Dustin Bates has a phenomenal vocal range. He was the ability to to sing these amazing melodies while also being able to belt out the occasional scream when the song calls for it. Oh and did I mention Bates has a P.H. D background in electrical engineering and is an instructor at the International Space University. One of my favorite parts of a Starset demonstration is how Bates uses his Emulator( which is basically a huge touchscreen mixer) to bring out all the electronic elements that are a prominent part of Starsets songs. The rest of Starset consists of Ron DeChant on bass, Brock Richardson on lead guitar, and Adam Gilbert on drums. The band also concsists of Violinist Siobhan Cronin and Jonathan Kampfe on cello. If you haven't caught a Starset demonstration you really should check out the bands dates for the upcoming Half God/Half Devil tour with headliner In This Moment. You won't leave disappointed.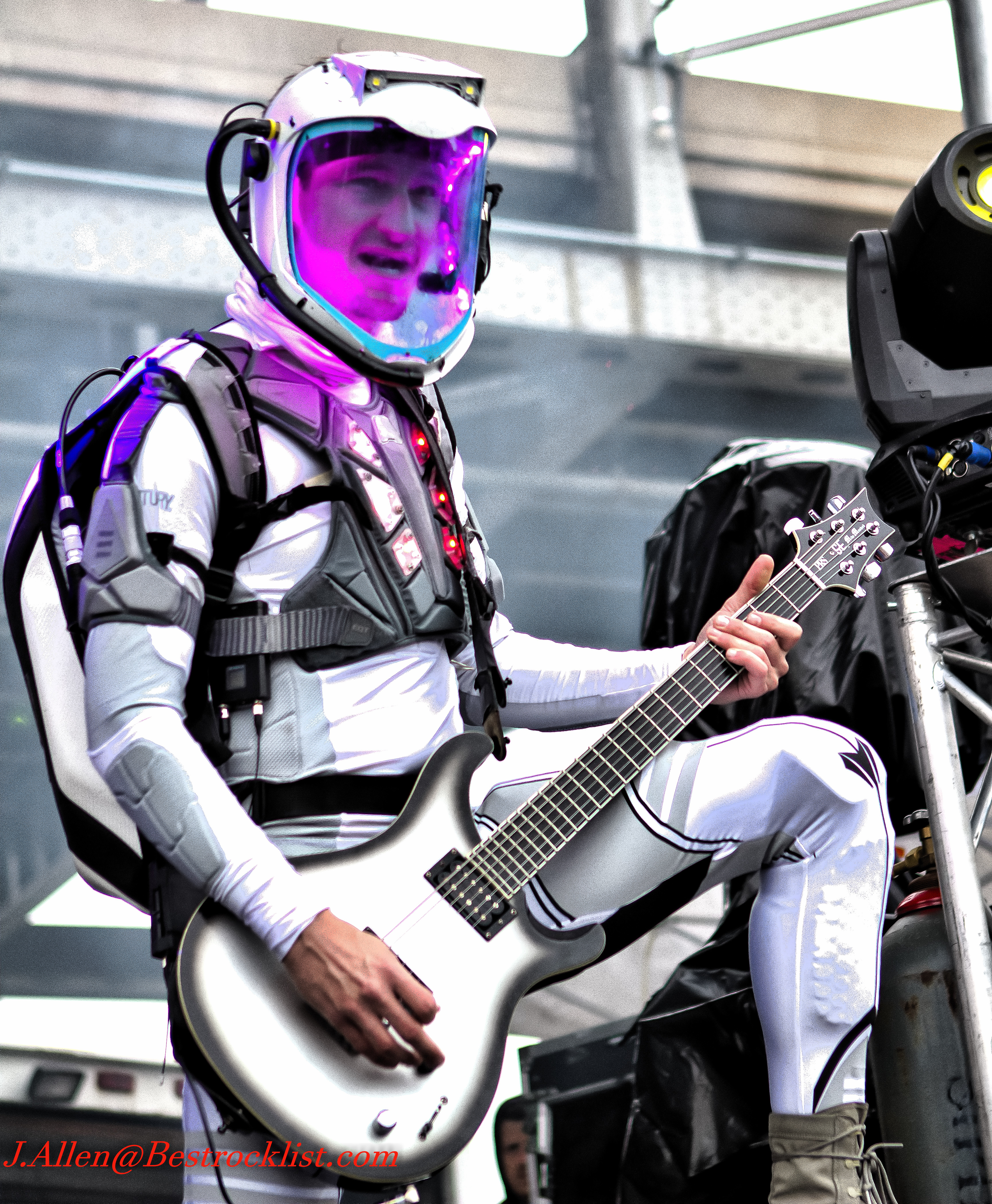 Co-Headliner Alter Bridge would be the next band to perform, and perform they did. This was my first time seeing Alter Bridge which is a little surprising considering they are known for their extensive touring and live shows. After seeing my first Alter Bridge show one thing is for certain, Rock is not Dead or Dying anytime soon. Alter Bridge are masters of their craft. Three of the four members (Mark Tremonti, Brian Marshall, and Scott Phillips) were part of this little band you may have heard of called Creed. Then there's lead vocalist Myles Kennedy who fronted Slash's solo band Slash Featuring Myles Kennedy and the Conspirators. Kennedy was also part of the Mayfield Four who at one time opened for Creed. It's not very often that you see a tour where every band that takes the stage sounds so in tune sound wise but that continued to be the case when Alter Bridge performed their set. The only complaint I had with the Alter Bridge set was the chill in the air and the fact that it started to drizzle out. Other then that Alter Bridge was flawless. Tremonti's guitar was loud, Marshalls bass you could feel in the first few rows, phillips was awesome on the drums, and Kennedy's vocals were crisp and it almost seemed effortless as he belted out song after song on Alter Bridge's ten song setlist. If you haven't seen Alter Bridge yet you will have to wait awhile as they are preparing to go overseas for the summer starting in June. They are definitely worth the price of admission if they make a stop near you in the future.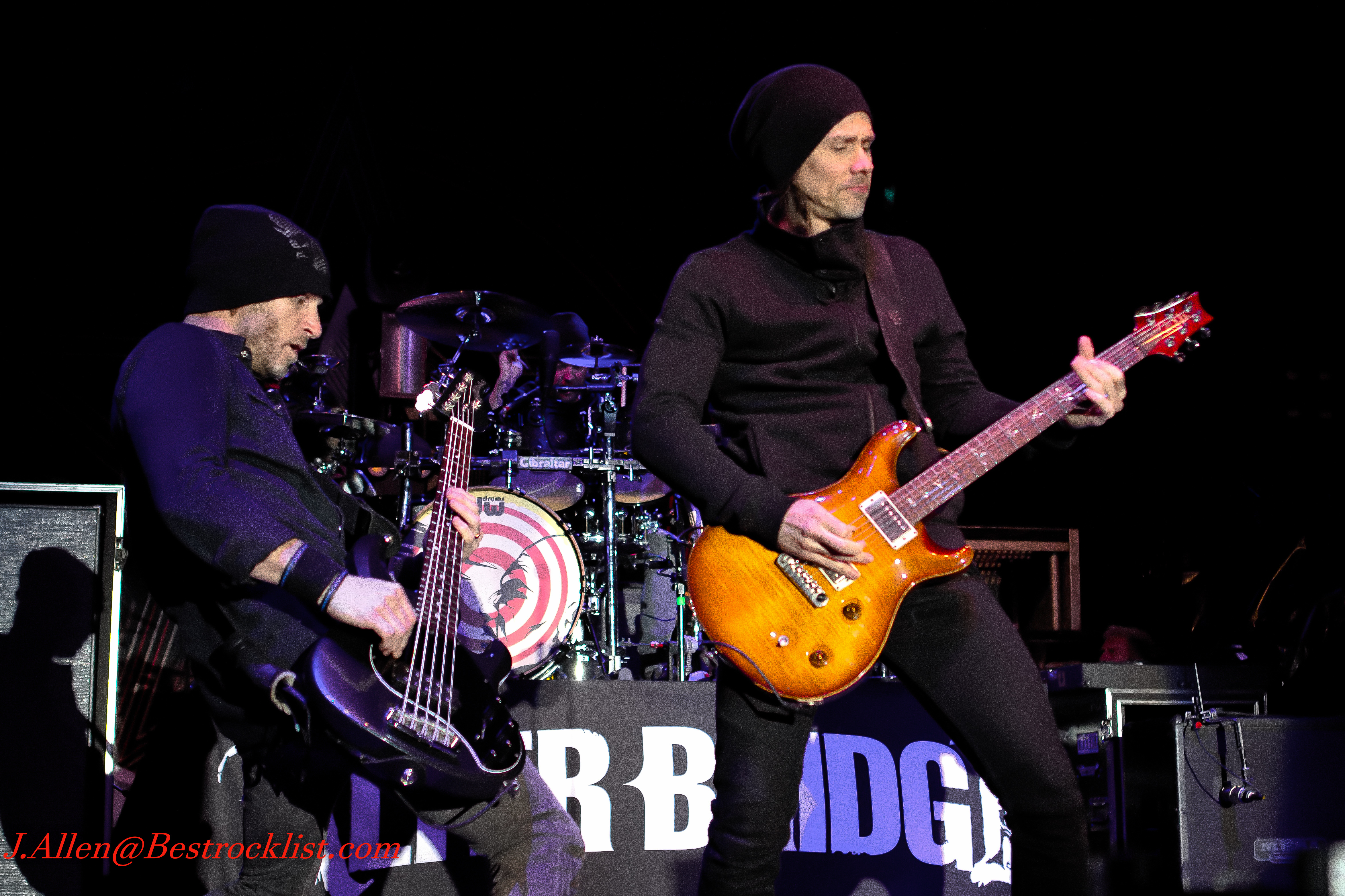 The final band to play would be the christian rock powerhouse Skillet. This would be my fourth time seeing Skillet and while their setlist hasn't really changed much since the release of their 2016 album Unleashed they are still one of my favorite bands to see live. Their setlist consisted of 16 songs that were performed magnificently all while the rain would start to pick up throughout their entire set. The crowd could have cared less as they sang along to Skillets catchy songs for their whole set. Skillet hails from Memphis Tennessee and consists of husband and wife tandem John(lead vocals, bass guitar) and Korey Cooper(rhythm guitar, keyboards, and backing vocals) and is rounded out with Seth Morrison on lead guitar, and Jen Ledger on drums and vocals. The best thing I've noticed about Skillet shows is you'll see people of all ages at their shows. There were kids as young as seven years old rocking out and singing alongside their parents. I even saw a toddler with his ear muffs on, and his play guitar on his fathers shoulders having the best time. Nothing beats being able to share the power of music as a family. Skillet will be on tour all summer long in support of the aforementioned Unleashed album, if you're a parent wanting to check out a family friendly and affordable rock show without a doubt check out Skillets tour dates and catch a show near you.