Best Classic Rock Songs For Sex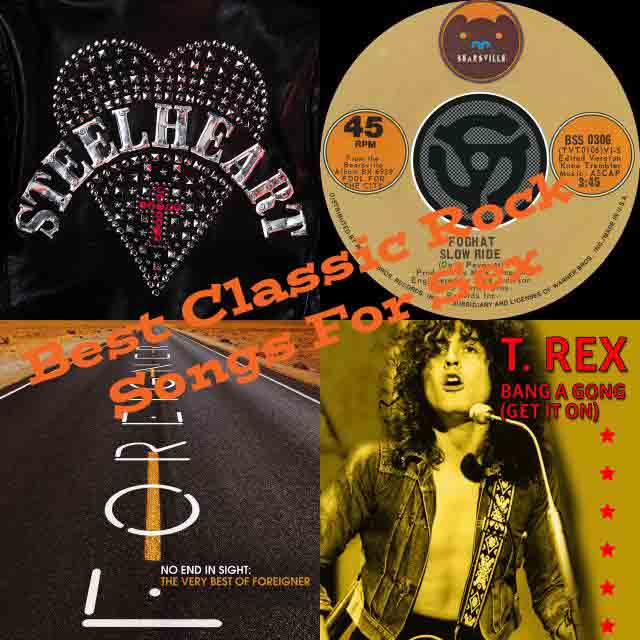 Classic rock songs are songs that are older than twenty-five years. Older rock songs contain innuendo and cover the topic of making love. Of course there are some songs that are very clear what they are for. The songs are for making love so set it on and let it play all night long.
25."Bang A Gong" by T. Rex (1971)
The song takes riff from "Little Queenie" by Chuck Berry and supposedly ended the friendship between Marc Bolan and John Peel. The reference to sex is pretty evident. This feel good song will always hit the mark. (Wink wink, nudge nudge.)
24."Slow Ride" by Foghat (1975)
This song came out on their fifth album in 1975 and there is a fantastic version on their live album, Foghat Live, that was released in 1977. This was Foghat's best charting single and is much played on classic rock radio. There are various versions that span from 7-10 minutes and the song slowly builds in tempo and intensity until the final push to the final, climactic end.
23."I Want to Know What Love" Is by Foreigner (1984)
A song about love and being shown what it is. This song can still be played at any high school reunion and fond memories come rushing back to the days when you had your first slow dance to this song.
22. I'll Never Let You Go by Steelheart (1990)
I'll Never Let You Go (Angel Eyes) is a song about love at first sight. Steelheart was led by vocalist, Miljenko Matijevic, one of the best vocalists of the Eighties. He sang the songs for Mark Wahlberg's character in the movie, Rock Star.
21. "Love of a Lifetime" by Firehouse (1990)
Another power ballad that peaked at number five on the Billboard Hot 100 in 1991. Firehouse was considered a glam band from Charlotte, North Carolina.
20. "To Be With You" by Mr. Big (1991)
A number one song for the band and had huge success in the early 1990s. The band consisted of Eric Martin, Pat Torpey, Billy Sheehan, and Paul Gilbert. The band broke up and reunited in 2009.
19. "Feel Like Makin' Love" by Bad Company(1975)
This track was released in 1975 and remains one of the best songs for lovemaking of all time.
18. "Dancing In The Dark" by Bruce Springsteen (1984)
This single propelled Bruce Springsteen to stardom. I think the video solidified him as a sex symbol where he was wearing super tight jeans and nothing was left to the imagination.
17. "Can't Fight This Feeling" by REO Speedwagon (1984)
REO Speedwagon is an American Rock band from Champaign, Illinois. Considered a power ballad and another high school dance staple. This song is from the album Wheels Are Turnin'
16."More Than Words" by Extreme (1990)
It has been over twenty-five years since Pornograffiti was released. "More Than Words" is the song that convinced girls to lose their virginity. I think the panties started dropping just looking at Nuno Bettencourt's luscious lips. Jack Black and Jimmy Fallon recreated the famous video.

15. "Magic Man" by Heart (1976)
An autobiographical tale of vocalist's Ann Wilson's romance with the band's manager, Mike Fisher. The song tells the story of a woman coming of age.
14. "Baby, I Love Your Way" by Peter Frampton (1975)
Baby, I Love Your Way is from the critically acclaimed album Frampton Comes Alive! in 1976. Peter Frampton is an English born American rock artist. Peter Frampton is famous for using the talk box guitar effect which are featured in "Do You Feel Like We Do".
13. "Hurt So Good" by John Mellancamp
This track is self explanatory. Featured in the movie Footloose and John Mellencamp won the Grammy for Best Male Rock Vocal Performance.

12. "Love In An Elevator" by Aerosmith (1989)
Released in August 1989 was written by Steven Tyler and Joe Perry of Aerosmith. The song is a very simple song about a fantasy in an elevator. Many people have thought that getting busy in an elevator is extremely sexy including Christian Grey.
11. "With or Without You" by U2 (1987)
Although the lyrics to this song cover the distance of being away from a loved one. The power of this song are not lost on anyone. I imagine it if you were going away from someone, you would want to spend time together with this song. With or Without You is from the album The Joshua Tree which is without a doubt, U2's best album.
10. "Rock Candy" by Montrose featuring Sammy Hagar(1973)
Montrose was rock band formed by Ronnie Montrose, Sammy Hagar, Bill Church, and Denny Carmassi. The tempo of the song is perfect for making love. The lyrics remind the listener of how hot they are and their potential.
9. "When It's Love" by Van Halen (1988)
Power ballad with vocalist Sammy Hagar taking the reins on this song. The intimacy and strength in this song makes you feel like grabbing onto your loved one and holding tight. It is track two from the album OU812.
8. "Is This Love" by Whitesnake (1987)
David Coverdale of the English band Whitesnake is one of the best vocalists of all time. "Is This Love" was actually written with Tina Turner in mind. It ended up being one of Whitesnake's biggest hits. The music video features Tawny Kitaen, the girlfriend of David Coverdale at the time. They were briefly married from 1989 to 1991.

7. "Pour Some Sugar on Me" by Def Leppard(1987)
Def Leppard's album, Hysteria, released in 1987 contains their highest charting single ever, peaking out at number two. While the lyrics have always been questionable, the innuendo in the song is clearly about having sex.
6."Start Me Up" by The Rolling Stones (1981)
Released August 14, 1981, "Start Me Up" is the epitome of songs about sex. Mick Jagger asks the lady to start him up and he'll never stop. The woman in the song is so hot that she would make a dead man cum.
5. "Whole Lotta Love" by Led Zeppelin (1969)
Led Zeppelin II, released in 1969, contains the only Led Zeppelin song to reach the top ten, peaking at #4 in the US as a single. Most radio stations edited out the controversial middle section that contained Robert Plant's moaning and vocals. The full version remains one of the band's classics and the music and Willie Dixon inspired lyrics are primal and sexy.
4. "In Your Eyes" by Peter Gabriel(1986)
This song made the most amazing movie scene from the movie Say Anything. The song was certified gold single. Peter Gabriel left Genesis in 1975 to pursue a solo career. He amassed commercial success with the album So that was certified five times platinum in the U.S..
3. "Need You Tonight" by INXS (1987)
When you think of a sexy song, I do not know of one that is possibly sexier than "Need You Tonight". The rhythm of the song and the super hot singer, Michael Hutchence, sent this song to the top of the charts and is synonymous with INXS. INXS is an Australian rock band formed in 1977. The song is on their album Kick.
2. "You Shook Me All Night Long" by AC/DC (1980)
Released in 1980 on their album, Back In Black, this song has become a staple of classic rock playlists and also makes regular appearances at wedding receptions I have attended in the last 30 years. The rhythm and lyrics are straight- forward and if this song does not get things started then you may want to make sure your partner is still breathing and alive.
"Night Moves" by Bob Seger (1976)
Released in 1976 by Bob Seger, this song is the most classic rock song for sex. The lyrics are so poignant about a summertime teenage affair. The song is timeless. In 1994, a music video was released and starred Matt LeBlanc, prior to "Friends" television show and Daphne Zuniga of "Melrose Park".

You might also like:
BEST HARD ROCK AND METAL SONGS TO HAVE SEX TO