Best Midwest Rock Music Festivals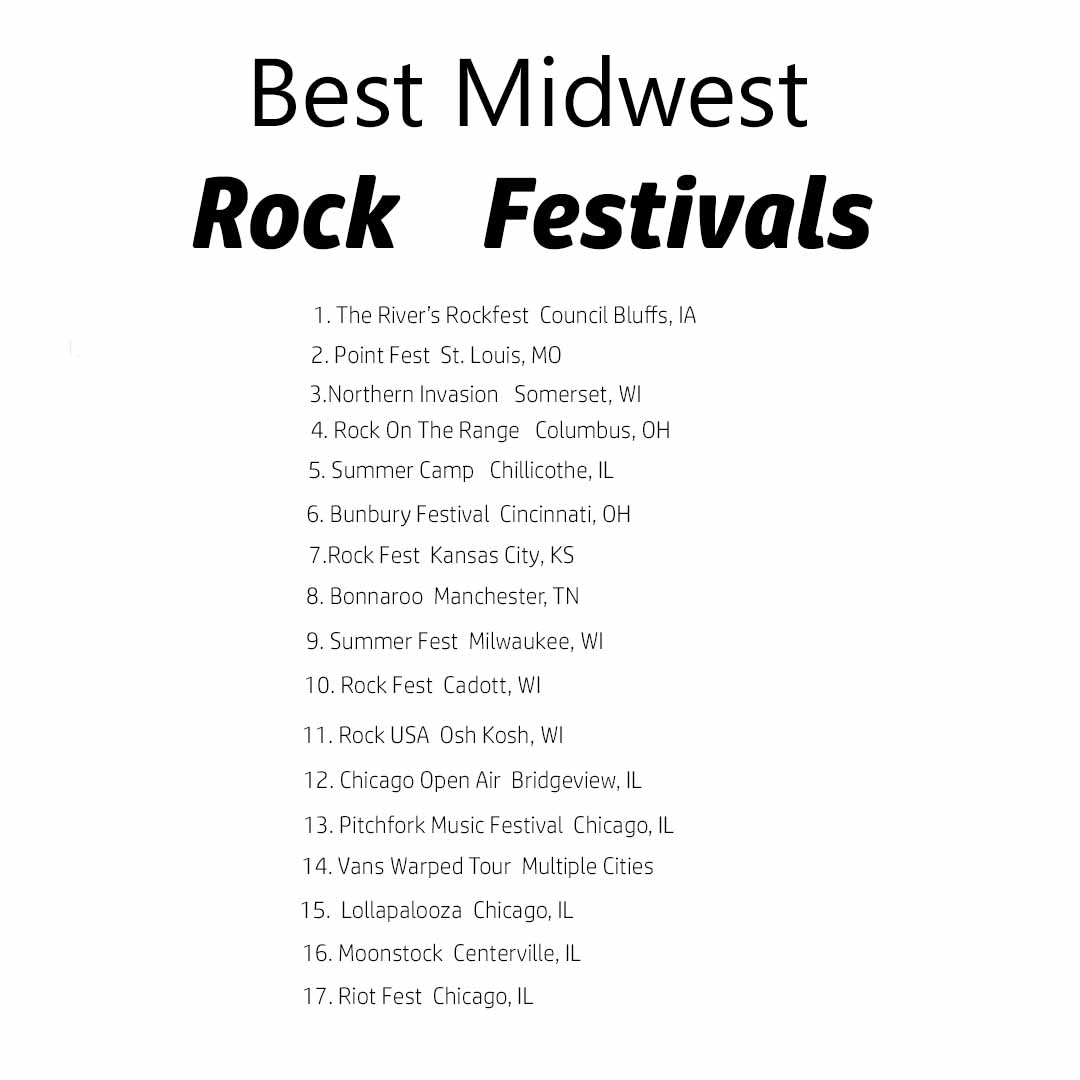 Bands traverse the country and coordinate with festival planners over the spring, summer, and fall to attend some of the biggest rock festivals in the United States of America. While there are plenty of festivals in the west, south, and east, this list only touches on the Midwest or those readily accessible from the central U.S.. The festival season starts in rock's loudest month, May.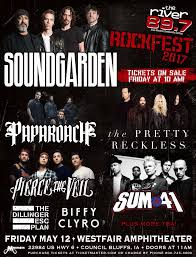 May 12th
Rock Fest, Westfair Amphitheatre, Council Bluffs, Iowa
The very first festival of the season starts on a Friday. The radio station 89.7 The River of Iowa Western Community College sponsors the festival at Westfair Amphitheatre. The lineup for a single day is incredible with Soundgarden, Papa Roach, The Pretty Reckless, Pierce The Veil, Sum 41, Dillinger Escape Plan, Biffy Clyro, and Through Fire.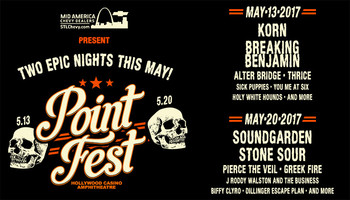 May 13th and May 20th
Pointfest, Hollywood Casino Amphitheatre, St Louis, Missouri
Two Saturdays in May are set for Pointfest in St. Louis, Missouri. Bands slated for the first of two Saturdays for Pointfest are KORN, Breaking Benjamin, Alter Bridge, Thrice, Sick Puppies, You Me At Six, Holy White Hounds, and more. The second Saturday for rockers has bands Soundgarden, Stone Sour, Pierce The Veil, Greek Fire, J. Roddy Walston & The Business, Biffy Clyro, Dillinger Escape Plan, The Hush List, and more. Click on the festival name for tickets and details.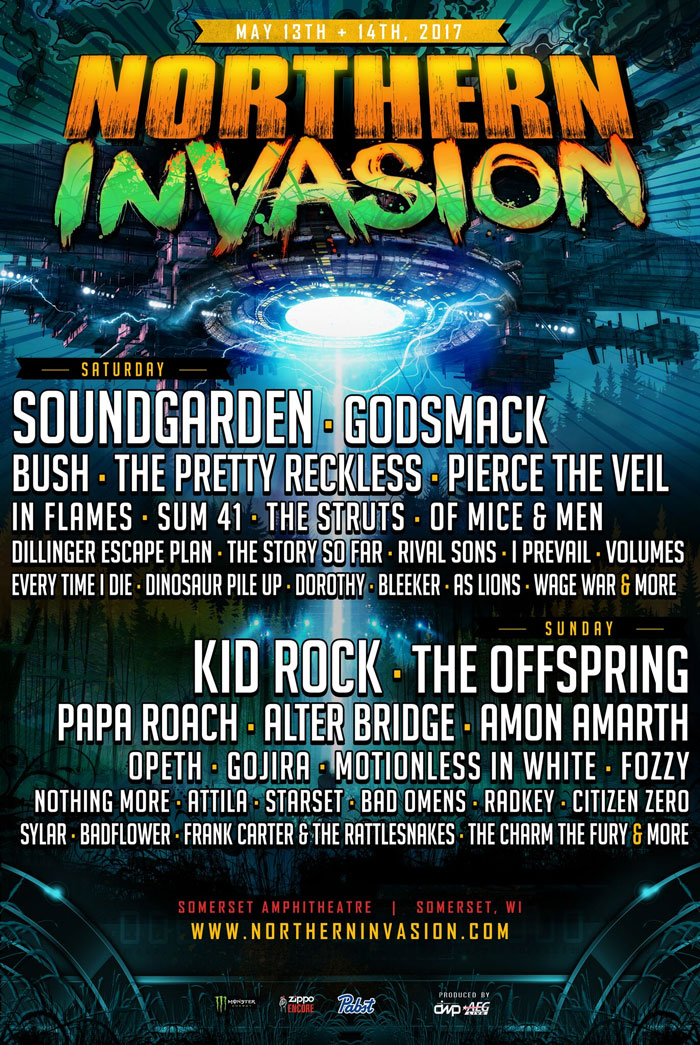 May 13th-14th
Northern Invasion, Somerset Amphitheatre, Somerset, Wisconsin (outside of Minneapolis, MN)
This two day festival is set in the rolling Somerset Amphitheatre and is produced by Danny Wimmer Productions and AEG Live. The atmosphere is laid back and due to the early date, you have to be prepared for forty degrees or seventy degrees. Performers for Saturday the 13th are Soundgarden, Godsmack, Bush, The Pretty Reckless, Pierce The Veil, In Flames, Sum 41, The Struts, Of Mice & Men,
Dillinger Escape Plan, The Story So Far, Rival Sons, IPrevail, Volumes, Every Time I Die, Dinosaur Pile Up, Dorothy, Bleeker, As Lions, Wage War and more.
Sunday performers are Kid Rock, The Offspring, Papa Roach, Alter Bridge, Amon Amarth, Opeth, Gojira, Motionless in White, Fozzy, Nothing More, Attila, Starset, Bad Omens, Radkey, Citizen Zero, Sylar, Badflower, Frank Carter & The Rattlesnakes, The Charm The Fury and more.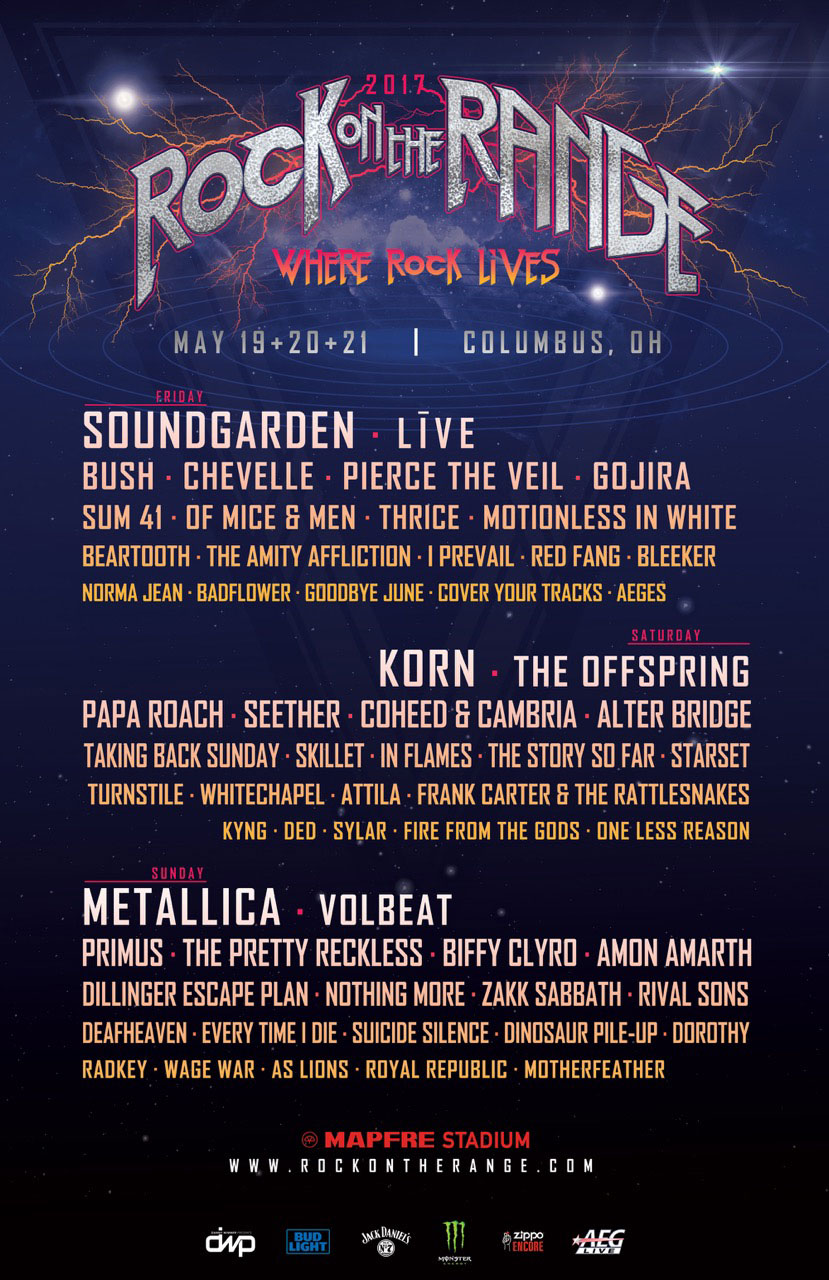 May 19th, 20th, and 21st
Rock On The Range, Mapfre Stadium, Columbus, Ohio
Rock On The Range is one of the oldest rock festivals still around and is celebrating its eleventh year. The three day festival has sold out for several years now and the soccer stadium and grounds work well for the outdoor festival. The weather is usually rainy leading up to Rock On The Range but the weekend clears up for the performances.
This year on Friday, the artists are Soundgarden, Live, Bush, Chevelle, Pierce The Veil, Gojira, Sum 41, Of Mice & Men, Thrice, Motionless In White, Beartooth, The Amity Affliction, I Prevail, Red Fang, Bleeker, Norma Jean, Badflower, Goodbye June, Cover Your Tracks, and Aeges. Saturdays boasts the bands Korn, Offspring, Papa Roach, Seether, Coheed & Cambria, Alter Bridge, Taking Back Sunday, Skillet, In Flames, The Story So Far, Starset, Turnstile, Whitechapel, Attila, Frank Carter & The Rattlesnakes, Kyng, DED, Sylar, Fire From The Gods, and One Less Reason. Sunday is the big day with Metallica, Volbeat, Primus, The Pretty Reckless, Biffy Clyro, Amon Amarth, Dillinger Escape Plan, Nothing More, Zakk Sabbath, Rival Sons, Deafheaven, Every Time I Die, Suicide Silence, Dinosaur Pile-Up, Dorothy, Radkey, Wage War, As Lions, Royal Republic, and Motherfeather.
One of the best festivals and it was founded by and is produced by Danny Wimmer and co-produced by AEG Live.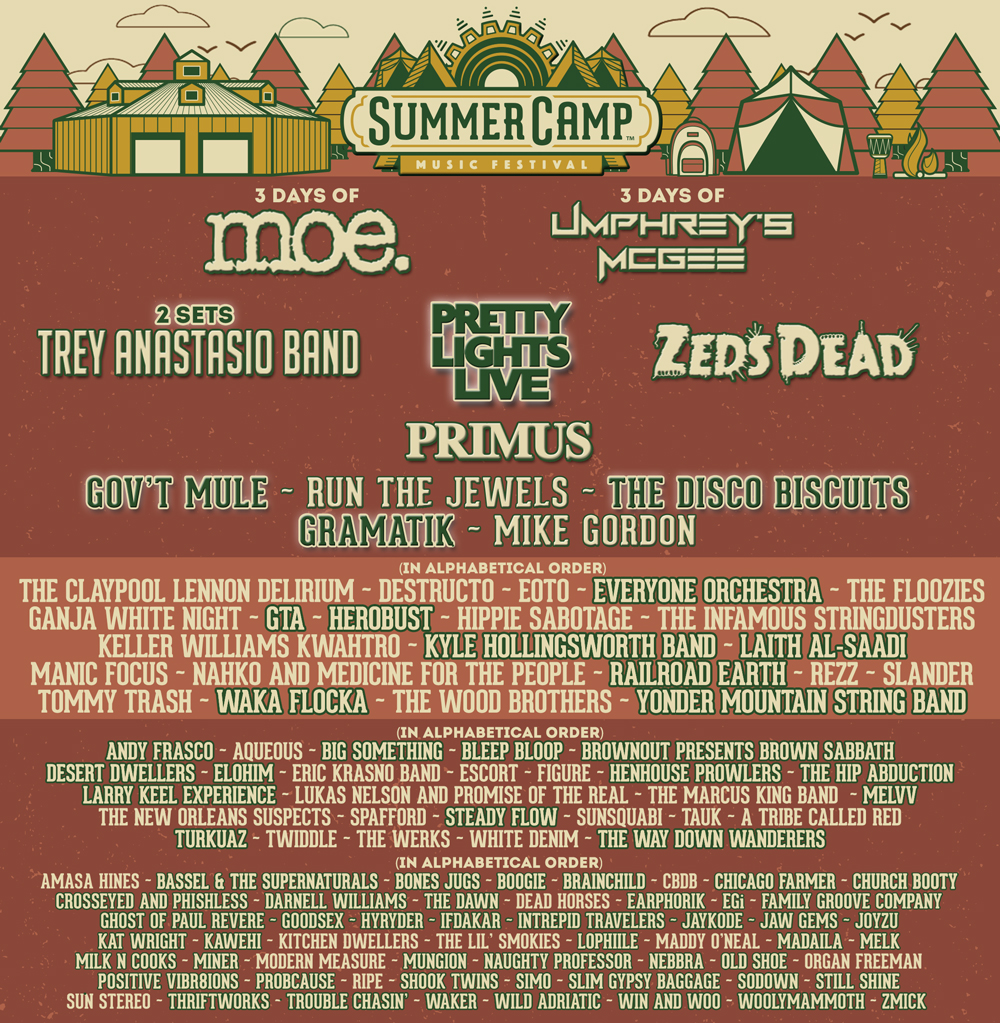 May 26th-May 28th
Summer Camp, Chillicothe, Illinois
Summer Camp is an eclectic mix of EDM, bluegrass, and jam bands and everything in between. Summer Camp is one of the most inclusive and feel good festival in the country. The bands this year are moe., Umphrey's McGee, Trey Anastasio Band, Pretty Lights Live, Zed's Dead, Primus, Gov't Mule, Run The Jewels, The Disco Biscuits, Gramatik, Mike Gordon, The Claypool Lennon Delirium, Destructo, Eoto, Everyone Orchestra, The Floozies, Ganja White Night, GTA, Herobust, Hippie Sabotage, The Infamous Stringdusters, Keller Williams Kwahtro, Kyle Hollingworth Band, Laith Al-Saadi, Manic Focus, Nahko and Medicine For The People, Railroad Earth, Rezz, Slander, Tommy Trash, Waka Flocka, The Wood Brothers, Yonder Mountain String Band and many, many more.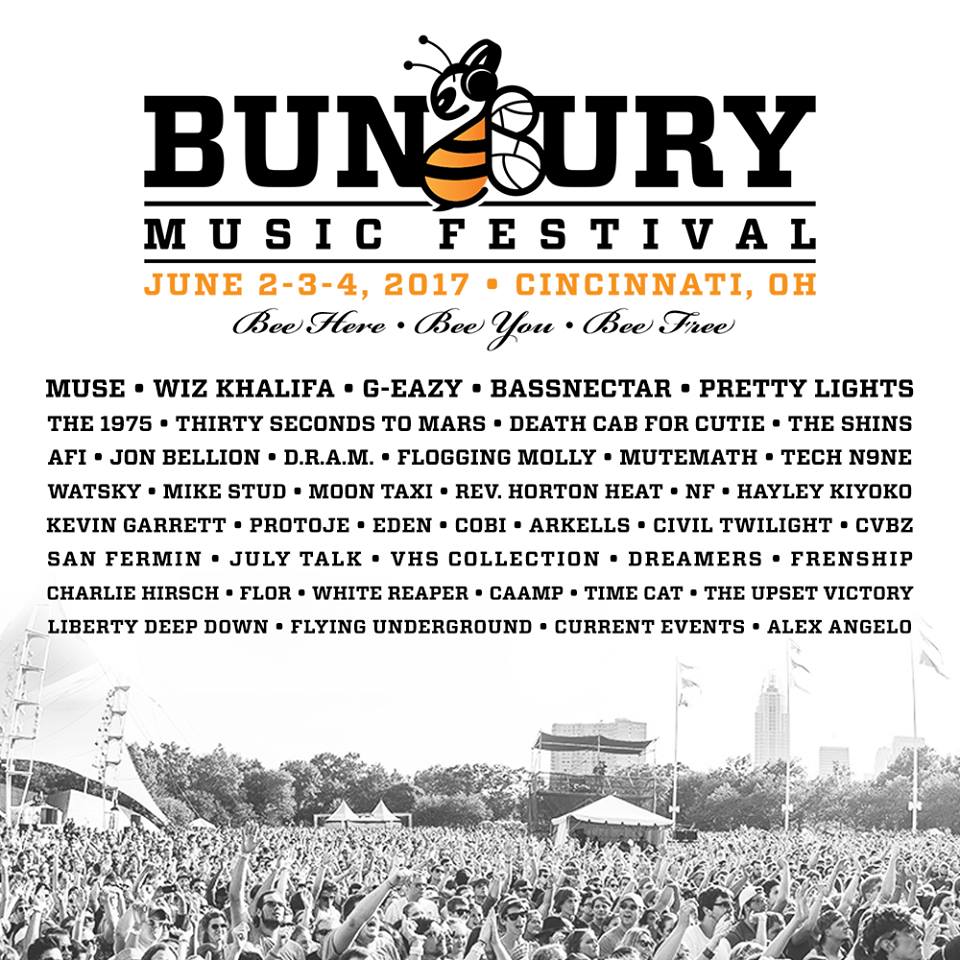 June 2nd-June 4th
Bunbury Music Festival, Cinncinnati, Ohio
Bunbury Festival happens on the banks of the Ohio River and was started in 2012. The festival is an eclectic mix of artists including Muse, The 1975, 30 Seconds to Mars, Death Cab For Cutie, The Shins, AFI, Flogging Molly, Mutemath, Tech N9ne, Wiz Khalifa, G-Eazy, Bassnectar, Pretty Lights, Jon Bellion, D.R.A.M., Watsky, Mike Stud, Moon Taxi, Reverend Horton Heat, NF, Hayley Kiyoko, Kevin Garrett, Protoje, and more. The name "Bunbury" taken from the play "The Importance of Being Earnest" has a fictional character "Bunbury" who the protagonist has a meeting with to get out of doing something they do not want to do.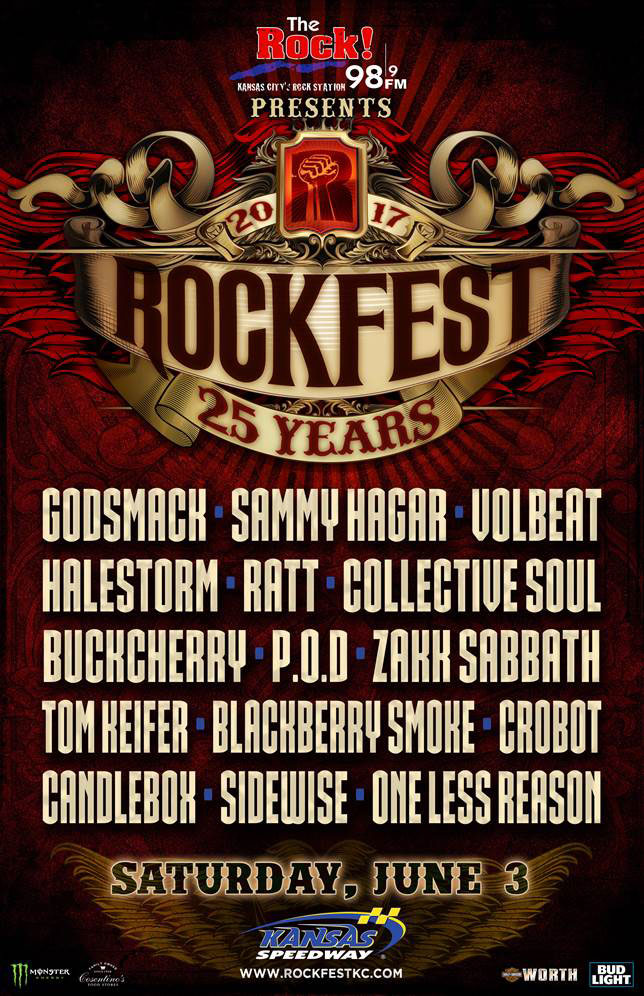 June 3rd
Rockfest, Kansas Speedway, Kansas City, Kansas
For twenty-five years, this festival brings rock to Kansas City and has grown every year. This year has so many great bands, Godsmack, Sammy Hagar, Volbeat, Halestorm, Ratt, Collective Soul, Buckcherry, P.O.D., Zakk Sabbath, Tom Keifer, Blackberry Smoke, Crobot, Candlebox, Sidewise, and One Less Reason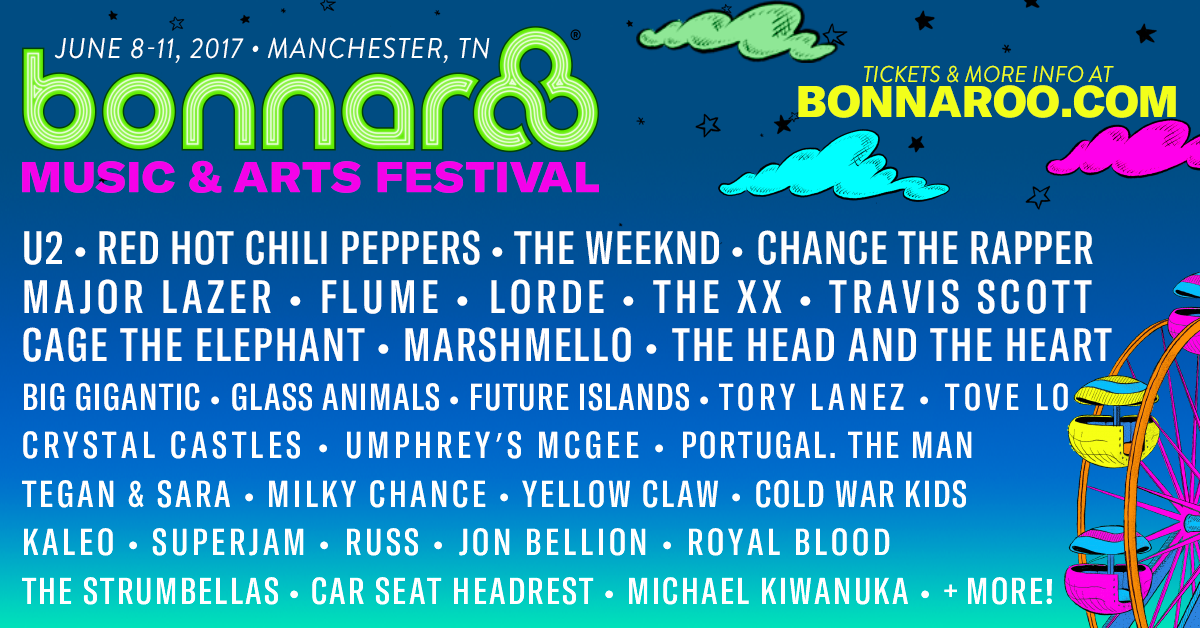 June 8th, 9th, 10th, and 11th
Bonnaroo, Manchester, TN
The creole slang word for "a really good time". The festival has grown to a massive four days with bigger and bigger names in music not only rock. While most would consider the location as the South. Us Midwesteners can still drive there and we do in droves. Lineups are world class and this year is no exception. The lineup includes U2, Red Hot Chili Peppers, The Weeknd, Chance The Rapper, Major Lazer, Flume, Lorde, The XX, Travis Scott, Cage The Elephant, Marshmello, The Head and The Heart, Big Gigantic, Glass Animals, Future Islands, Tory Lanez, Tove Lo, Crystal Castles, Umphrey's McGee, Portugal.The Man, Tegan & Sara, Milky Chance, Yellow Claw, Cold War Kids, Kaleo, Superjam, Russ, Jon Bellion, Royal Blood, The Strumbellas, Car Seat Headrest, Michael Kiwanuka, and more.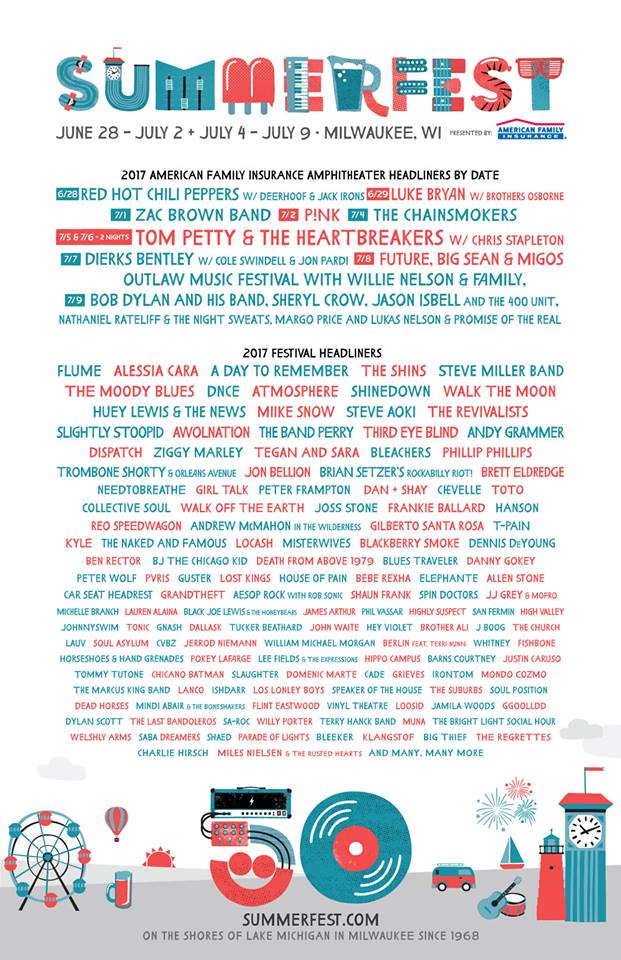 June 28th-July 9th
Summerfest, Milwaukee, Wisconsin
Summerfest has been going strong and getting bigger each year since the mid-1970's. This year is an eclectic mix of artists like any other year. The headliners this year is Red Hot Chili Peppers, Luke Bryan, Zac Brown Band, P!nk, The Chainsmokers, Tom Petty and The Heartbreakers, Dierks Bentley, Future, Big Sean & Migos, Outlaw Music Festival with Willie Nelson and Family, Bob Dylan and his band, Sheryl Crow, Jason Isbell, and too many to list.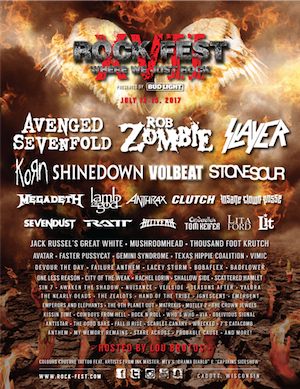 July 13th – July 15th
RockFest, Cadott, Wisconsin
Twenty-four years and going strong is this rock and metal festival just outside of Eau Claire, Wisconsin. The lineup consists of Avenged Sevenfold, Rob Zombie, Slayer, Korn, Shinedown, Volbeat, Stone Sour, Megadeth, Lamb of God, Anthrax, Clutch, Insane Clown Posse, Sevendust, Ratt, HELLYEAH, Cinderella's Tom Keifer, Lit, Jack Russell's Great White, Mushroomhead, Thousand Foot Krutch, Avatar, Faster Pussycat, Gemini Syndrome, Lita Ford, and too many to name. The lineup consists of the best old and new rock and metal.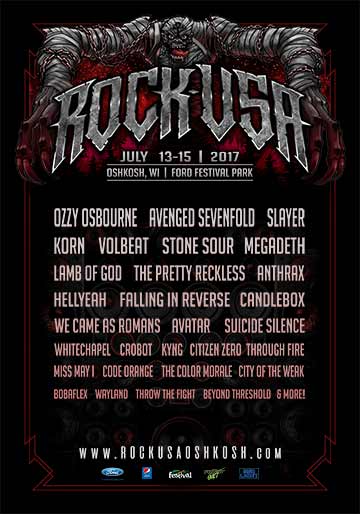 July 13th – July 15th
Rock USA, Osh Kosh, Wisconsin
Rock USA is the answer to Country USA in Osh Kosh. The lineup consists of Ozzy Osbourne in one of four dates he will be performing at this year. The other bands slated are Avenged Sevenfold, Slayer, Korn, Volbeat, Stone Sour, Megadeth, Lamb of God, The Pretty Reckless, Anthrax, HellYeah, Falling in Reverse, Candlebox, We Came As Romans, Avatar, Suicide Silence, and more.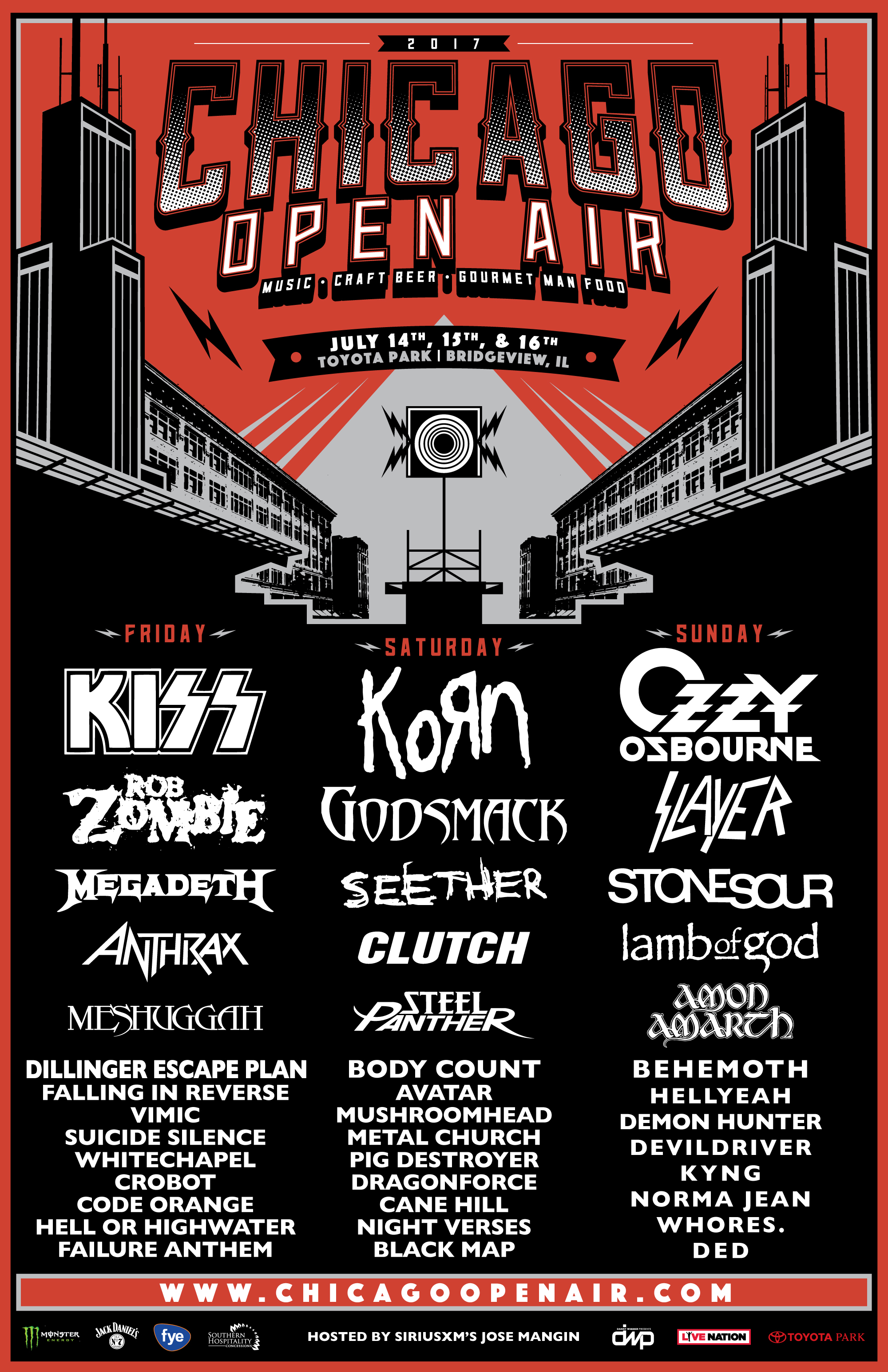 July 14th – July 16th
Chicago Open Air, Bridgeview, Illinois
The second year for Chicago Open Air has a more metal lineup than other festivals has heavy hitting bands like Kiss, Korn, Ozzy Osbourne, Rob Zombie, Godsmack, Slayer, Megadeth, Seether, Stone Sour, Anthrax, Clutch, Lamb of God, Meshuggah, Steel Panther, Amon Amarth, Dillinger Escape Plan, Body Count, Behemoth, Falling In Reverse, Avatar, HellYeah, Vimic, Mushroomhead, Demon Hunter, Crobot, Kyng, Cane Hill, DED and more.
July 14th – July 16th
Pitchfork Music Festival, Union Park, Chicago, Illinois
The festival organized by Pitchfork Media that is an indie music icon. This year the headliners are LCD Soundsystem, A Tribe Called Quest, and Solange. Others on the lineup are Dirty Projectors, Danny Brown, Thurston Moore Group, PJ Harvey, Angel Olson, The Feelies, Nicolas Jaar, The Avalanches, Ride, American Football, Vince Staples, Arca, Kamaiyah, His Golden Messenger, George Clinton & Parliament Funkadelic, Milski, Madlib, Arab Strap, SURVIVE, Isaiah Rashad, Hamilton Leithauser, Pinegrove, Jamila Woods, Colin Stetson, and others.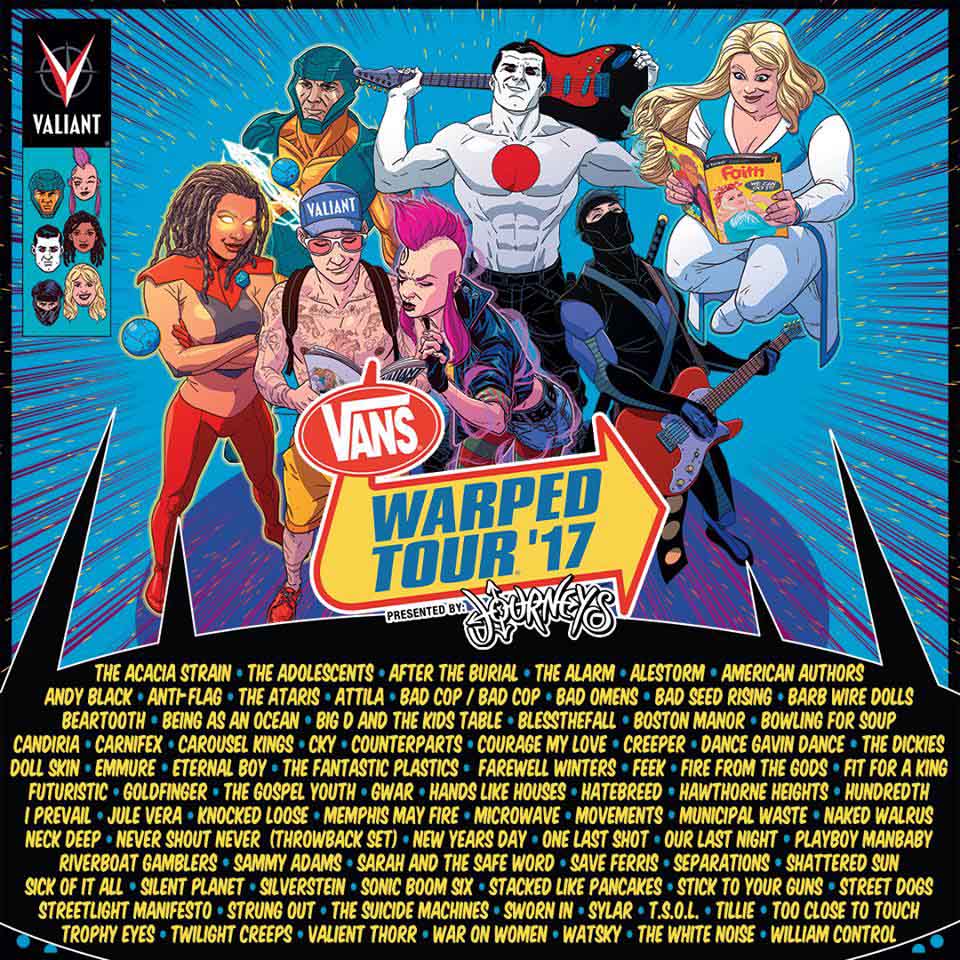 July 18th – July 27th
Vans Warped Tour, Multiple Cities, Midwest
Nine dates of the traveling tour of Vans Warped Tour comes across the Midwest. Surely you can make it to one date. Appealing to teenagers is what Warped Tour does best however I have seen adults dragging their kids to a set at Warped plus parents get in for free if they bring their kid. Dates go through Ohio, Michigan, Illinois, Minnesota, Wisconsin, Missouri, and Kansas. The artists are The Acacia Strain, After The Burial, Alestorm, Andy Black, Beartooth, Being As An Ocean, BlessTheFall, Bowling For Soup, Dance Gavin Dance, Fire From The Gods, Futuristic, Gwar, Hatebreed, IPrevail, Memphis May Fire, Too Close To Touch, William Control and many, many more.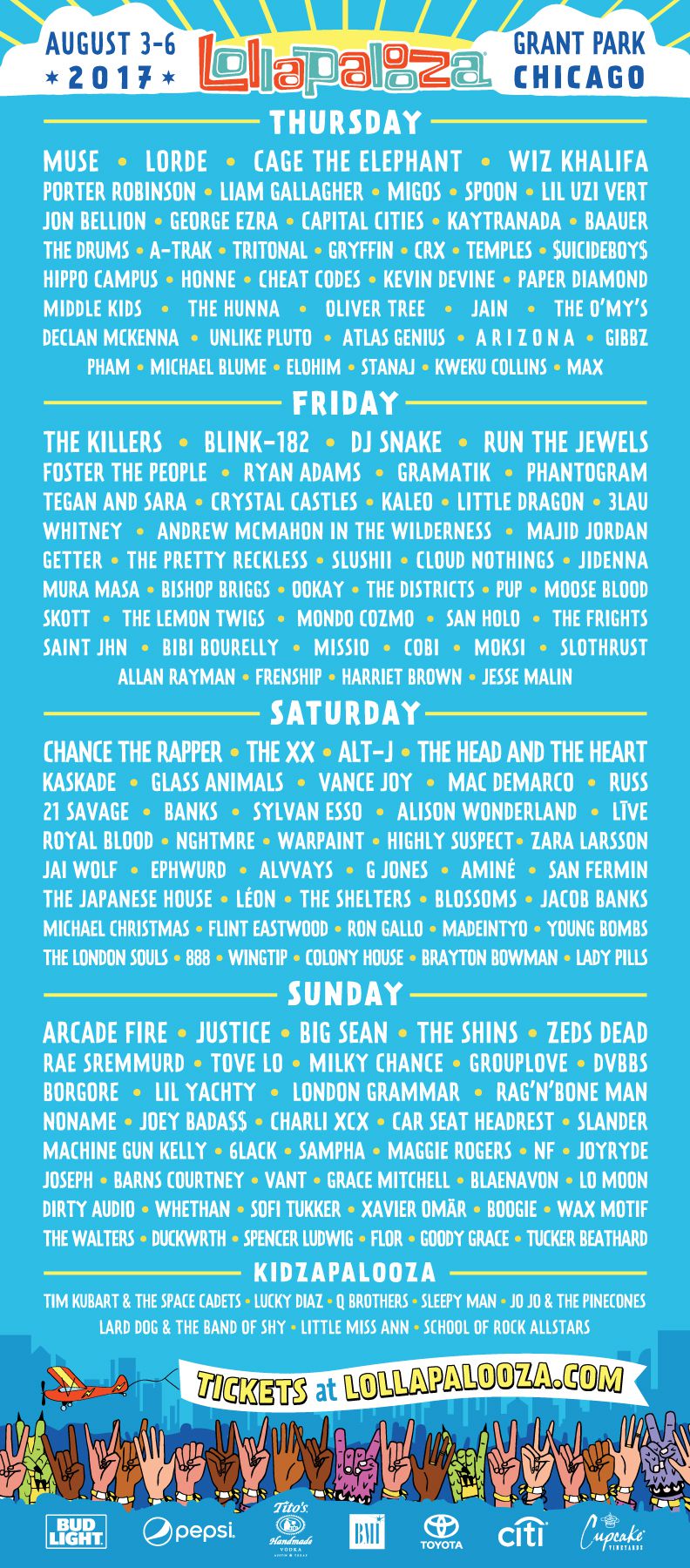 August 3rd – August 6th
Lollapalooza, Grant Park, Chicago, Illinois
Lollapalooza was started as a touring festival much like Warped Tour. But the traveling festival was shortlived and now the the bands come to Chicago for one of the hottest weekends in the windy city. The Headliners are Muse, The Killers, Chance The Rapper, Arcade Fire, Lorde, Cage The Elephant, Wiz Khalifa, Blink-182, DJ Snake, Run The Jewels, The XX, Alt-J, The Head and The Heart, Justice, Big Sean, The Shins, Zeds Ded, Porter Robinson, Liam Gallagher, Migos, Spoon, Lil Uzi Vert, Foster The People, Ryan Adams, Gramatik, Phantogram, Kaskade, Glass Animals, Vance Joy, Mac Demarco, Rae Sremmurd, Tove Lo, Milky Chance, Grouplove, and way too many to list.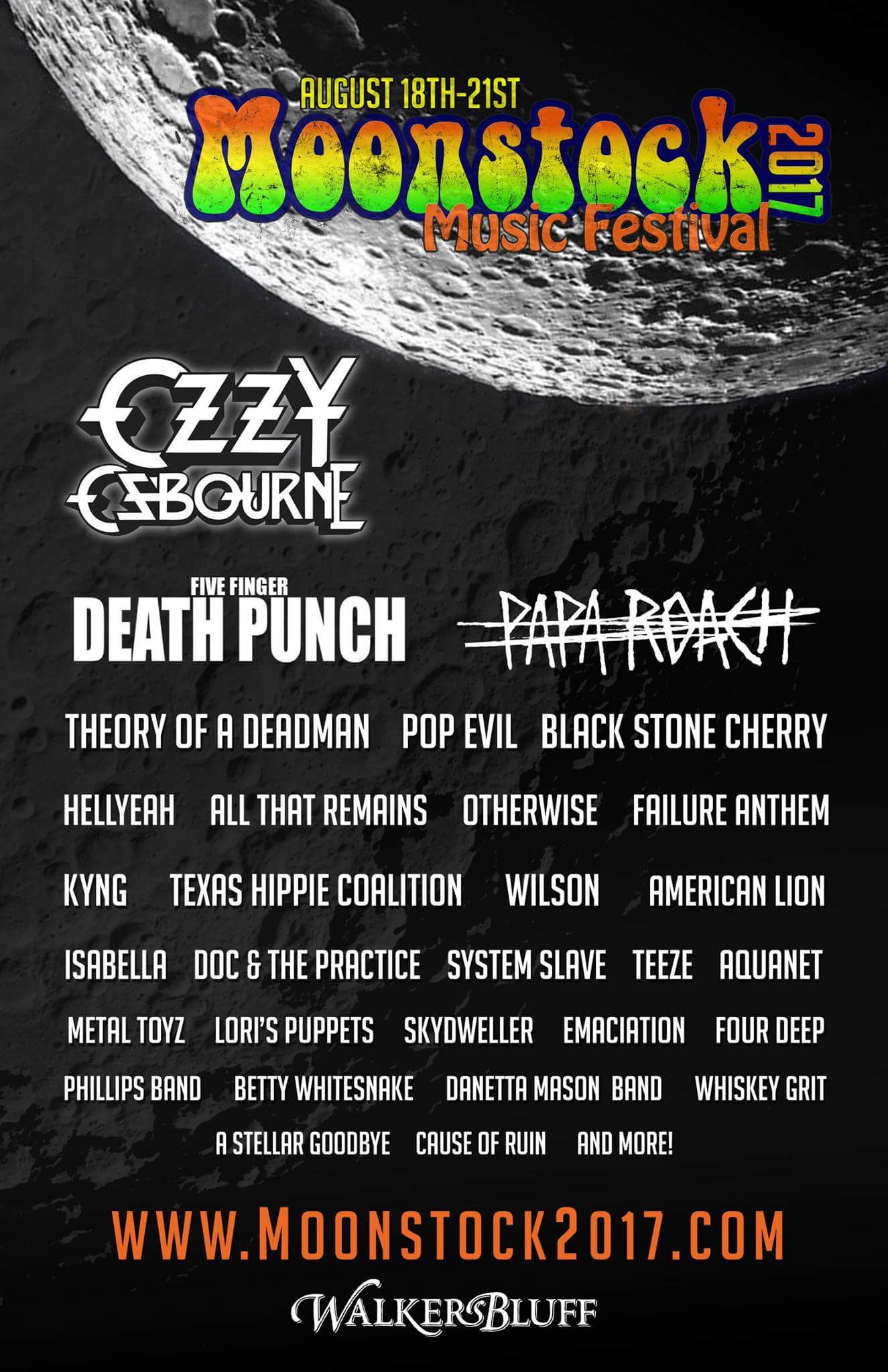 August 18th – August 21st
Moonstock Festival, Walker's Bluff, Carterville, Illinois
The festival is headlined by Ozzy Osbourne and he starts performing "Bark At The Moon" when the total solar eclipse occurs. Festival goers will be given eclipse glasses to watch the eclipse. Only the second year for Moonstock and they have a great lineup with Five Finger Death Punch, Papa Roach, Theory of A Deadman, Pop Evil, Black Stone Cherry, HellYeah, All That Remains, Otherwise, Failure Anthem, Kyng, Texas Hippie Coalition, Wilson, American Lion, Isabella, Doc & The Practice, System Slave, Teeze, Aquanet, and many more.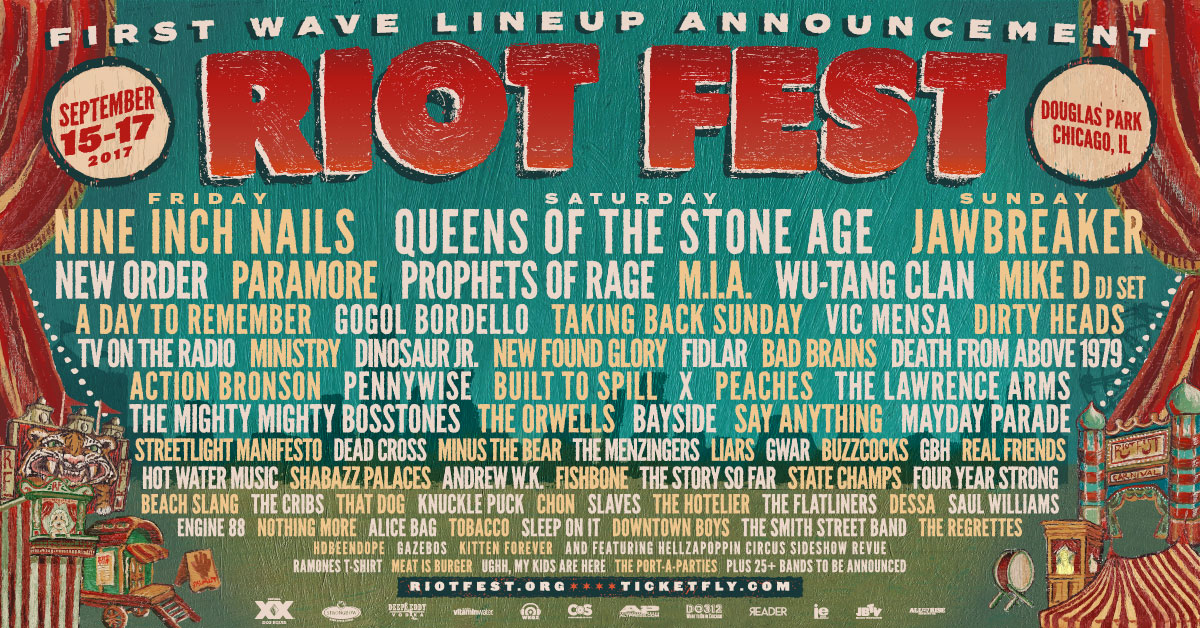 September 15th – September 17th
Riot Fest, Douglas Park, Chicago, Illinois
Slated as a Punk Rock festival in Chicago and another date in Denver. Headliners are Nine Inch Nails, Queens of The Stone Age, Jawbreaker, New Order, Paramore, Prophets of Rage, M.I.A., Wu-Tang Clan, Mike D dj set, A Day To Remember, Gogol Bordello, Taking Back Sunday, Vic Menja, Dirty Heads, TV on The Radio, Ministry, Dinosaur Jr., New Found Glory, Fidlar, Bad Brains, Death From Above 1979.
So get your body to a festival if you want to gather with fellow rockers. Keep the feeling alive of celebrating and experiencing your favorite artist in the open air. Festivals to keep an eye out for are Dirt Fest in August in Pontiac, Michigan and Rock n' Skull on October 27th in Pekin, Illinois.