Cheap Trick is out on the road this summer as part of the "Rock Hall Three For All" tour featuring their fellow Rock 'n' Roll Hall of Fame inductees, Joan Jett and Heart, and made a stop in in their hometown (well… their 2nd hometown, after Rockford, IL.) Chicago on 7/19/16 at Northerly Island. This was the 4th stop on a tour which is currently scheduled to the beginning of October.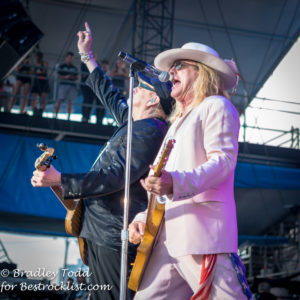 The band is out in support of their wonderful new album (w/ the odd title), "Bang, Zoom Crazy…Hello," which rocks from the opening to the closing note, and is also notable as the group's first album with Daxx Nielsen, guitarist Rick Nielsen's son, on drums.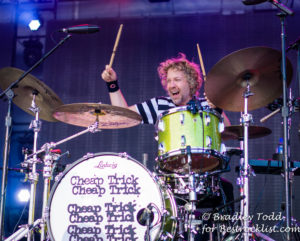 While Cheap Trick is opening the shows on this tour, don't be fooled because they are headliners who just happen to be playing first (my guess is that they were added to the tour after the Heart/Joan Jett lineup was already set). They pack their hour long set with hits and new songs, and switch up the setlist from night to night, showing the depth of their catalog.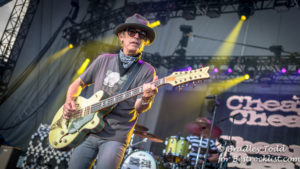 Daxx Nielsen brings a great energy to the group, and Tom Petersson always lays down a solid base to the rhythm section with his 12 string bass. Rick Nielsen is the master of ceremonies with his distinctive guitar work, quirky presence and personality. And Robin Zander is simply a freak of nature the way his voice has retained its range and tone decades after he began his long run fronting one of America's rock 'n' roll treasures.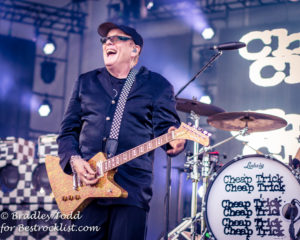 Cheap Trick still wants you to want them, and with their new album they are showing they are still worthy of our desire.
Set List Below: