The 10 Best Hard Rock/Metal Songs About Addiction and Recovery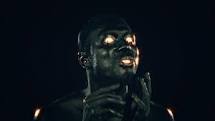 Music helps us through the hardest of times including those times when we fall and try to pick ourselves back up.  Many musicians grapple with drugs, alcohol, and other addiction and recovery.  Some are successful and others have a continual struggle.   Some artists lose their way and die too early.  There are so many brilliant musicians who have had their lives abbreviated.  Some rockers actually recover and sometimes replace their bad addictions for healthier ones such as exercise.  Sharing their struggles and successes help others.
I changed the order of these songs several times as they are meaningful in different ways.  Listen to them in any order or shuffle as your mood dictates.  Here is a list of the ten best hard rock/metal songs about addiction and recovery:
10.   "It's Been A While" by Staind
This song is for anyone who struggles with drugs and relationships.  The words to the song touch upon the reality for many addiction is about self-loathing and trauma.  The main figure of the song realizes that it has been a while since he felt anything.  Staind was formed in 1994 in Springfield, Massachusetts.  The vocalist, Aaron Lewis, has set out on a country music career since 2011.
9.   "Deal With The Devil" by Pop Evil
"Deal With The Devil" is off of the album Onyx from Pop Evil.  The song lyrics ask,
When you're high who you flying for? When you ride who you riding for?  When you toast who you drinking for?  When you play, got a deal with the devil.
Pop Evil is a rock band from Grand Rapids, Michigan and is known for their single "Trenches".  The opening scene is of a woman breathing hard and you know she is craving drugs as she proceeds to shoot up with heroin.  Be  forewarned that the video will be a trigger for users.  I chose not to post it here for those of you who are struggling to stay clean right now.
8.  "My Own Prison" by Creed
Creed is an American rock band from Florida.  The vocalist, Scott Stapp, talks openly about his alcohol and drug addiction.  He is living soberly now.  He battled depression and addiction and it culminated into a forty foot fall off of a balcony.  He has a solo career now and also wrote a book Sinner's Creed.
7.  "Save Me" by Shinedown
Brent Smith, the singer of Shinedown, has had a tremendous physical transformation after going through recovery.   He traded drugs and alcohol for working out and eating right.  He looks like, and is, a different person.  His honesty about his addiction, recovery, and life makes Shinedown one of the most successful bands in the world.
6.  "Truth Hurts" by Bullet for My Valentine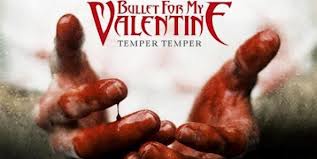 One more drink, one more pill, Just one more line to make me feel, Like I have something left to give,  Cause without it I'm just giving in.  
Bullet For My Valentine almost broke up because of the issues with alcohol and drug abuse.  Many fans including myself are thankful the band corrected themselves and got on a path of control.  Working through their problems, they released their album, Temper Temper of which this track is number two.
5.   "Fine Again" by Seether
Seether is a South African alternative metal band.  The band is probably best known for the single, "Broken" featuring Amy Lee, then girlfriend of Shaun Morgan.  Seether's frontman, Shaun Morgan, has had addiction to a combination of substances.
4.  "Animal I Have Become" by Three Days Grace
Three Days Grace (3DG) has reorganized with vocalist, Adam Gontier, pursuing a solo career and 3DG enlisting My Darkest Days singer, Matt Walst, also brother of 3DG bassist, Brad Walst.  Adam Gontier has been very open and supportive to all the people who are struggling with addiction.  The entire One-X album is a dedication to those struggling with addiction and recovery.

3.   "Life is Beautiful" by  Sixx A.M.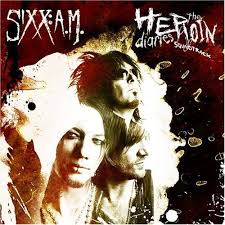 Sixx A.M. is the hard rock band consisting of Nikki Sixx (also bassist for Mötley Crüe, photographer, and radio host), DJ Ashba (also guitarist for Guns N Roses), and James Michael.   This track is hopeful and helps the addict to realize that life is beautiful and someone will miss them when they are gone.  Every person, regardless of the bad things they have done, will be missed by someone if they die.
2.  "Hate Me" by Blue October
This song is so raw and real and honest.  Blue October's, Justin Furstenfeld, is an amazing lyricist.  The lyrics to this song really touch on feelings we all have of inadequacy and disappointing those who love us the most.  Watch the video here:

1.  "The Death of Me" by Asking Alexandria
I wanted some of the songs to have a more positive feel.  Many can be depressing and introspective.  "The Death of Me" talks about the resolve of Danny Worsnop, vocalist of Asking Alexandria, and that he is back and better than ever!
That is my list of the best hard rock/metal songs about recovery.  Here are other songs that received honorable mention.
"Mr Self Destruct" by Nine Inch Nails, "No Excuses" by  Alice in Chains, "The Great Divide" by Scott Stapp, "Beyond The Realm's of  Death" by Judas Priest, and "Suicide Messiah" by Black Label Society
Are there other songs that have helped you on your road to recovery?  Share them with others here.

http://www.wikipedia.org/, http://www.azlyrics.com  accessed 9-18-2013.  http://www.wikipedia.org/, http://www.cbn.com/tv/2084430308001, http://themusic.com.au accessed 9-24-2013  http://www.wikipedia.org/, http://www.ultimate-guitar.com, http://noisecreep.com accessed 9/25/2013.