Whitesnake – "Greatest Hits Tour – 2016"
6/10/16 – The Venue, Horseshoe Casino – Hammond, IN.
By Bradley Todd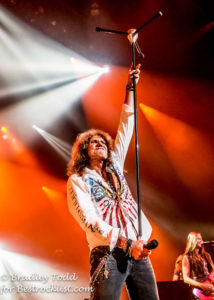 Whitesnake, fresh off lead singer & band leader, David Coverdale's April Rock & Roll Hall of Fame induction with his former group, Deep Purple, are back on the road for the "Greatest Hits Tour – 2016."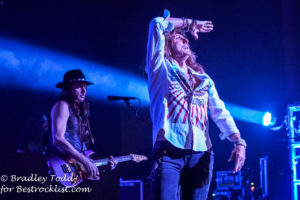 The tour kicked off on June 1st and rolled into The Venue at Horseshoe Casino, in Hammond, IN. on Friday 6/10/16 for the 6th show of a summer trek that will see Whitesnake cover Midwest and East Coast dates to July 2, before heading overseas to Europe for shows currently announced on their website through August, 13th. Whitford St. Holmes (the side project from Aerosmith guitarist, Brad Whitford, and Ted Nugent singer/guitarist, Derek St. Holmes) is opening the US leg of the tour, though they didn't open this particular show (…and as a side note, Whitford St. Holmes has a great new rock record out and is fun to see live – previous coverage of their record preview tour can be found here: Show Review – https://bestrocklist.com/whitford-st-holmes-concert-review/ and Photos – https://bestrocklist.com/whitford-st-holmes-concert-photos/ ).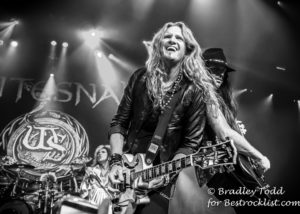 As the tour's title suggests, they're playing all the hits with the setlist taken from the band's three 80's albums: Slide It In (1984), Whitesnake (1987), and Slip Of The Tongue (1989). Mr. Coverdale has re-assembled a talented cadre of musicians for the current incarnation of the band after a couple of departures over the past few years. The group currently consists of drumming legend, Tommy Aldridge (who is in his third stint with the group, and still plays with great flair and hits the skins hard as hell!), Reb Beach on the twin guitar attack along with Joel Hoekstra, Michael Devin on bass, and newcomer to the band, Michele Luppi on keyboards.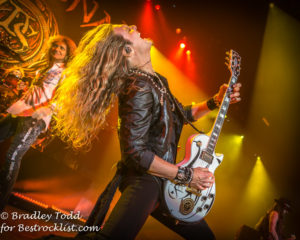 The band's talent shone through on this night and they sounded well rehearsed and tight despite it being early in the tour. David Coverdale's voice sounded good too, even though he was making reference to having a "summer cold" and encouraged audience participation sing alongs to finish verses and bolster choruses. But little encouragement was needed for fans, which seemed to be an equal mix of men and women, to sing along to Whitesnake's catchy, indelible melodies and lyrics. If Mr. Coverdale was feeling under the weather in any way, it was hard to tell based on the good spirits he was in, and his jovial interactions with fans up front with whom he was giving hand slaps and mugging for cell phone pictures.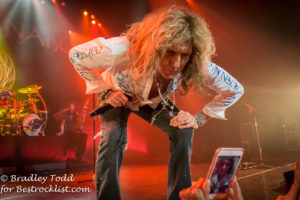 In addition to the hits, the set also included solo spotlights for each guitar player, bassist and drummer, and lasted approximately 90 minutes.
**More Photos Below Setlist**
SET LIST:
Bad Boys
Slide It In
Love Ain't No Stranger
The Deeper The Love
Fool For Your Lovin'
Sailing Ships
Judgment Day
GUITAR SOLOS
Slow & Easy
Cryin' In The Rain
DRUM SOLO
Is This Love
Gimme All Your Love
Here I Go Again
ENCORE
Still Of The Night
Future tour dates and Whitesnake news can be found on the band's website: www.whitesnake.com .