Don Jamieson's Hell Bent For Laughter (Metal Blade Records) Album Review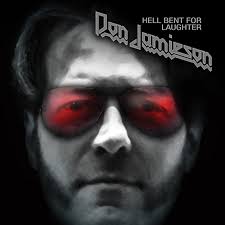 Don Jamieson, comedian and co-host of VH1 Classic "That Metal Show" has released a sophomore comedy album called Hell Bent For Laughter (Metal Blade Records).  "That Metal Show" is the longest running show on VH1 Classic which Don compares to 'being the smartest one on Honey Boo Boo or the handsomest one on Duck Dynasty'.  Don's previous album Live and Hilarious debuted in the top ten on the Billboard comedy album chart.
Hell Bent For Laughter melds two things that I love, comedy and metal. The very title and album cover is an emulation of Judas Priest's album Hell Bent For Leather.  Don Jamieson talks about not only metal artists but pop artists as well.  Artists he discusses are Guns N Roses, Black Sabbath, Judas Priest, Metallica, Fall Out Boy, Kiss, Motley Crue, and Lady Gaga.  I was taken aback at the daring of the politically incorrect topics. I interviewed Don about the boldness of his quips and he explained his thoughts on it to me.  We also discussed the upcoming plans of "That Metal Show". Find my interview here with Don here: Interview with Don Jamieson
As a nightclub comic, more than simply offending others, Don is also self-deprecating. After hearing the album, I wanted to give him a referral for a good therapist.  He talks about the size of his penis, his signature lamb chop sideburns, and how his girlfriend is way too hot for him.  This album covers sex, drugs and rock and roll in great detail and how a compass can help your sex life.  While his is not the most cerebral comedy, math is a theme that is touched upon throughout the album.  He pays homage to the magical vagina and talked about what we all on this site love; hard rock and metal music.
You can download Hell Bent for Leather here: Metal Blade Records
Find out more about Don on his website:  www.donjamieson.com
    Don's Twitter
    Don's Facebook
  Don's MySpace
   Don's YouTube