Highly Suspect Concert Review
September 23, 2017
The Castle Theatre
Bloomington, Illinois

Highly Suspect came to Bloomington-Normal, Illinois on Saturday, an unusually hot day. The show had sold out within the first week. Blo-no'ers were ready for a rock show. They had been in the grind of back to school and work for while now. Several fans came from miles around to see the three time Grammy nominated Highly Suspect at The Castle Theatre. The Castle Theatre is one of the premiere intimate venues in the Midwest.
The backdrop for Highly Suspect was the acronym M.C.I.D. which stands for My Crew Is Dope. Which means that their friends and fans are dope. Tattoos, snapbacks and t-shirts abound with the #mcid and the MCID Nation is real. DJ Redbees started spinning tunes and acted an informal emcee for the bands. The music he played was not loud but really background music for the wait.
Openers for the show, Bones U.K., wowed the audience with their blues rock and fiery attitude. Rosie Bones comes out on stage with a flask and an instant cool attitude. Guitarist, Carmen Vandenberg, was impressive. Bones U.K. has recently co-written Jeff Beck's album "Loud Hailer". Their own songs are filled with fun, spunk and attitude. Most notably, their song "Girls Can't Play Guitar" and Rosie Bones told us the story about the man that inspired that song. You can learn more about them from their Facebook page: Bones and Bones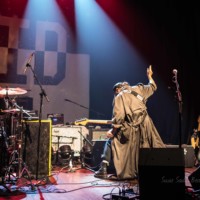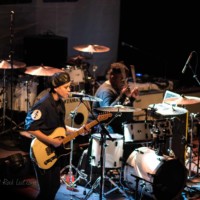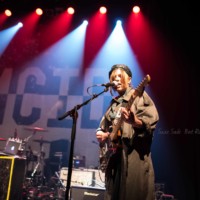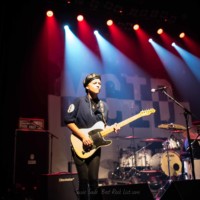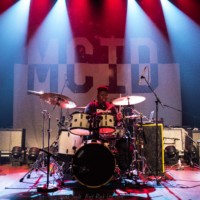 Introduced by DJ Redbees, Highly Suspect took the darkened stage. Drummer, Ryan Meyer,came out, followed by Rich Meyer, bassist and then the vocalist, Johnny Stevens. MCID Nation was ready to see these guys live. I was impressed by the live show from the plugged in guitars to the technical guitar playing. Highly Suspect's song writing make the listener feel as if we are part of their experience. Whether it is the melancholy "Little One" or the gritty "Bloodfeather" or the anthemic "My Name Is Human", you feel the songs. These songs are not just for casual listening.
Their complete set list for the night:
1. Send Me An Angel (Real Life cover)
2. Bath Salts
3. Bloodfeather
4. Serotonia
5. Fuck Me Up
6. Round & Round
7. Vanity
8. Viper Strike
9. Lydia
10. Claudeland
11. ATL/Drum Solo/ATL (reprise)
12. My Name Is Human
Encore:
13. Little One
14. Wolf
15. Look Alive, Stay Alive
During the last song, the tech took over on drums and Ryan decided to do a little crowd surfing. What a fitting end to a perfect Saturday night rock show.
You can find out more about Highly Suspect on their website:
HighlySuspect.net