Best of Warped Tour 2015
Best Rock List attended two dates of Vans Warped Tour in 2015. We attended dates in Chicago and Milwaukee.
Best performances
Mod Sun
Movement On Dreams + Stand Under None
Mod Sun is all about happy, living life to the fullest, and having fun. I would describe him as a Jimmy Buffet for Millenials.
The band is fun and accepting. They had a wheelchair fan come out eleven-year-old girl and she knew every single word to the song, "Happy As Fuck" in Chicago. It was an amazing performance. You can watch the video here Kylee video
Arkham
We caught Arkham's one-off show in Milwaukee on the Kevin Says stage. They are a punk band from Chicago. Their show was energetic. When the singer Adam Bevel had a nosebleed, he just went on with the show. and it was almost like a metal show with a bloodletting. The crowd is always mixed at the Kevin Say stage and today was no exception. Several fans were happy to participate in singing/screaming along with Arkham.
Crossfaith
The electronic metal band from Japan. The band was formed in 2006. Crossfaith was on Warped Tour in 2013. Crossfaith has what it takes to go the distance. They have talent and determination. We learned a little about where they are from in Osaka, Japan in our interview with them.
Pvris
Pvris hot off a win of Alternative Press's Breakthrough Band. With two EPs and one full length album "White Noise" that was released in November of 2014. The album has been greatly received. The songs "St Patrick", "Holy" and "My House" are lyrically amazing.
Mallory Knox
Mallory Knox is a U.K. band that had recently been on tour with Sleeping with Sirens and Pierce The Veil prior to Warped Tour. Their latest album Assymetry came out in October of 2014. Find out more about Mallory Knox and Assymetry by watching our interview with Mikey.
Asking Alexandria
Warped Tour was the United States first look at Asking Alexandria with new vocalist, Denis Stoff. I had my doubts that Denis Stoff could pull off the same quality of vocal style as Danny Worsnop. I was proven wrong. Denis Stoff seems to complete the band in a cohesive way more than Worsnop ever did. He fits quite nicely with their image and his skills as a vocalist are on par with Worsnop and we daresay better than Worsnop live. Asking Alexandria's new song "I Won't Give In" is a statement to the world that Asking Alexandria will persevere.
Bebe Rexha
A prolific songwriter with songs such as "The Monster" by Eminem with Rhianna and "Hey Mama" by David Guetta featuring Nicki Minaj. Bebe Rexha is striking out on her own and released an EP titled I Don't Wanna Grow Up. In addition to performing songs off her EP, she also performed hits that she wrote. She is a gorgeous woman and immediately fans were drawn to her as a performer. They already knew most of her songs.
Kaya Stewart
Kaya Stewart is a new fresh face that is the offspring of Eighties rock royalty. Her father is none other than Dave Stewart of The Eurythmics. Kaya is only fifteen and her lyrics are sincere, honest, and sweet. Find out more about her relationship with her father and plans for the future in our interview.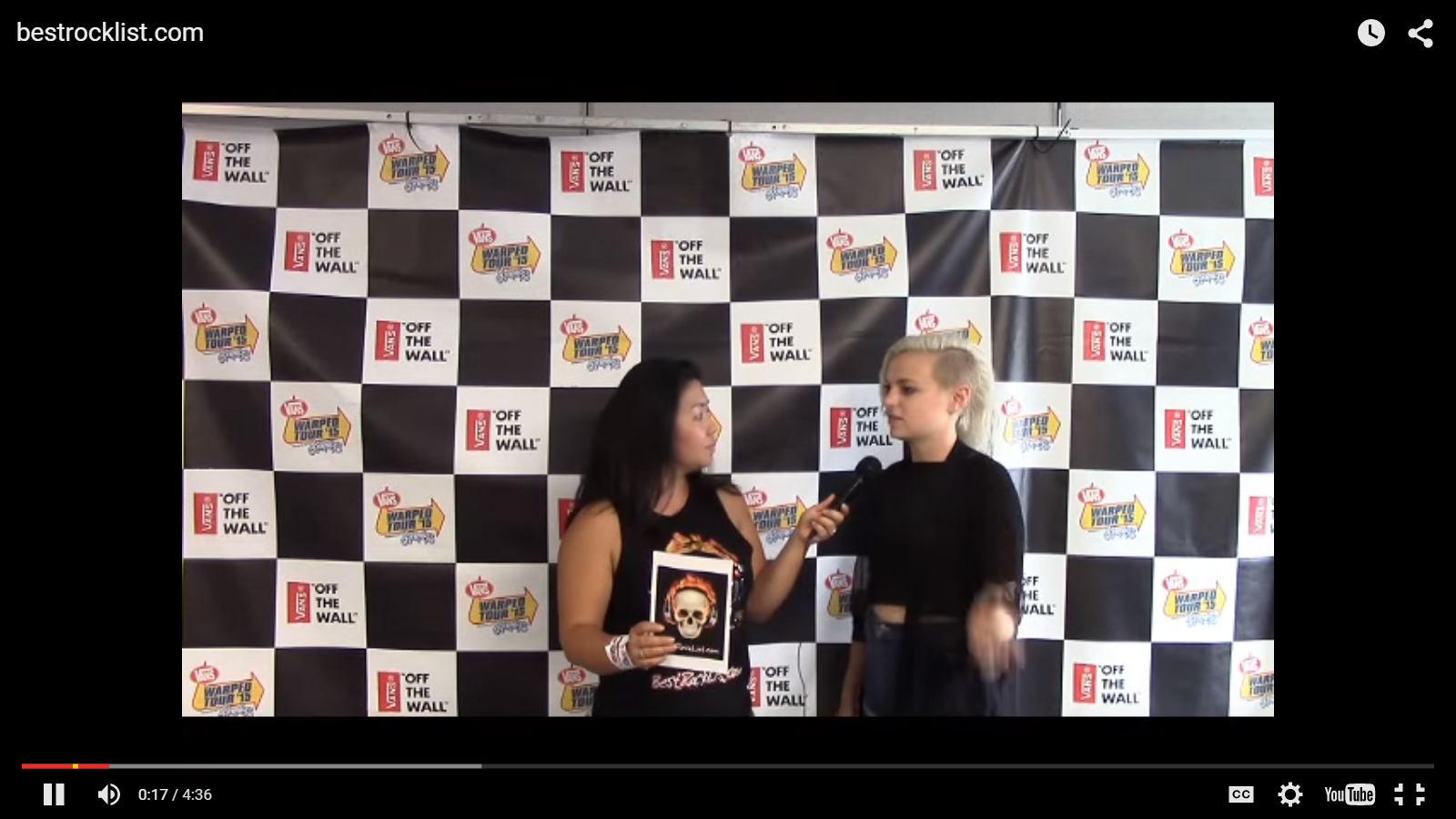 Family Force 5
The Christian power band has the most enthralling show of the entire tour. Their style included Eighties inspired clothing, neon triangles, and trampolines. Every person should make sure to see this band live if they ever have the chance. What fans get is a band that is high energy, fun and entertaining. Vocalist Crouton (Jacob Olds) was airborn a lot of the time during their performance. Their show is mesmerizing and the best fun of Warped Tour.
Black Veil Brides
When the men in Black Veil Brides look at a fan, the fan may scream or faint especially if the fan is female but occasionally when they are male too. Black Veil Brides sound is metal or even hard rock. The band has some of the most dedicated fans who dress like them and scream along to their lyrics like there is no tomorrow. The frenzy surrounding Andy Biersack is a teenage emotion on crack or at least a Venti Double. Girls still think they will be able to marry him even though he is taken by fellow Warped Tour artist and The Voice finalist, Juliet Simms.
Pierce The Veil
A lot of the fans showed up for Pierce The Veil. So many fans that there was a crowd halfway across the grounds in Chicago. Despite the fact that Tony Perry was not on the tour because of a mountain biking accident. His fill in, Jesse Barrera, had no problem with their set. Tony Perry is the offspring of rock royalty also. His father is none other than Joe Perry of Aerosmith. Pierce The Veil has made a name for themselves with poignant lyric writing headed up by brothers, Mike (drummer) and Vic (vocalist) Fuentes. The entire band the deceptive look of teenagers while being in their thirties. Perhaps the tattoos make them look younger. Their set consisted of:
The Divine Zero
May These Noises Startle You in Your Sleep
Hell Above
Bulls in The Bronx
Yeah Boy and Doll Face
Caraphernelia
King For a Day
Warped Tour was skewed toward the younger crowd with the bands on the tour. The tour continues to outdo itself each year. Each year, everyone asks will there be another Warped Tour and how can it be any better than this year. It is different each year and continues to persevere and excite every year. We cannot wait until next year.