Best Rock Songs for a Sporting Event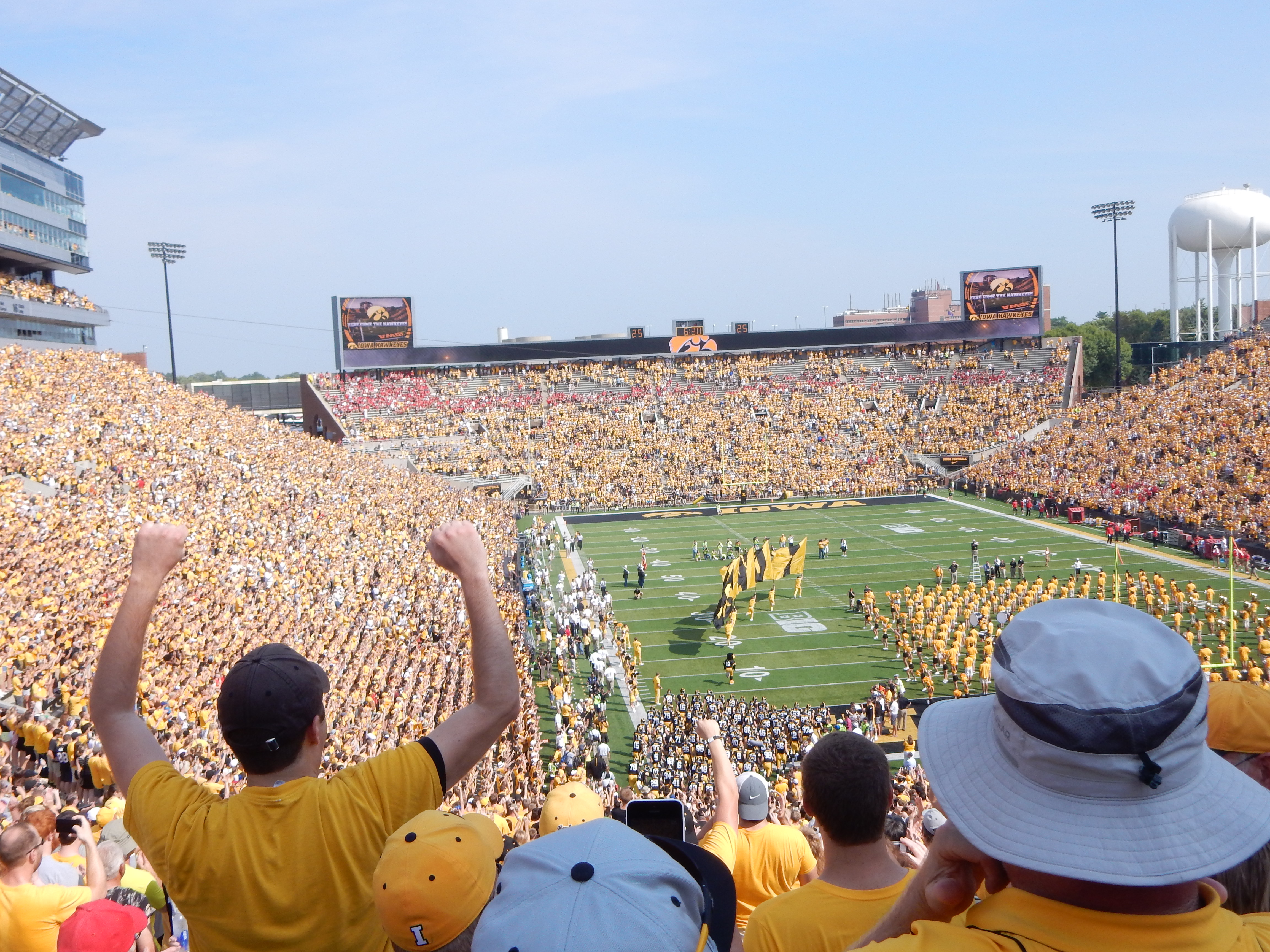 Whether you want to get ready for the World Cup or the Super Bowl, here are the songs you can rock out to to get in the mood to be legendary on the field or court or cheer on your favorite team. These are the best rock songs for a sporting event, the big game, or the match.
20. Legendary by Welshly Arms
Welshly Arms is an American Rock band from Cleveland, Ohio. The song is about the struggle to get to the top and doing anything to get there.
"This is what we came for
And we couldn't want it anymore
Could never turn back now
Got to leave it all on the floor"
19. Strike Back by We As Human
The now defunct band We As Human was a Christian metal band with heart. They were discovered by the Christian band, Skillet's leader, John Cooper. This song is not so Christian but it makes the list by being a kick-ass song about fighting against a foe. The former singer and songwriter, Justin Cordle, also penned the new hit, Judas by Fozzy.
18. Face To The Floor by Chevelle
Chevelle is a band of brothers from Chicago, Illinois. Brothers, Pete and Sam Loeffler are joined by their brother-in-law, Dean Bernardini. This song was a statement about Bernie Madoff and one of the largest Ponzi schemes in history. He stole millions and Chevelle wrote this song as a reaction.
17. I Will Not Bow by Breaking Benjamin
Released by Breaking Benjamin August 12, 2009, the song has been certified double platinum. It was used at the end credits of the movie Surrogates starring Bruce Willis. The song lyrics say "I will not bow, I will not break, I will shut the world away, I will not fall, I will not fade, I will take your breath away"
16. White Flag by Bishop Briggs
Bishop Briggs is the stage name for Sarah Grace McLaughlin, a British musician. Her sound has been described as Indie Rock. This track is about perserverence in fight and never giving up. The song shows up in Shadow of The Tomb Raider and also Wrestlemania's Women's Main Event.
15. Take It All by Pop Evil
Pop Evil is a band that has many tracks about persevering so it was hard to choose just one. If you need motivation, you can listen to "Trenches", "Last Man Standing, "Be Legendary", " Waking The Lions" and others I am forgetting now. Pop Evil just keeps getting better over time and I am sure they will create more inspiring music.
14. You're Going Down by Sick Puppies
Sick Puppies is an Australian Rock band and this song was sung by their former Shimon Moore. Recently, Shimon Moore, created a new band called Screaming At Demons. Sick Puppies still survives with bassist, Emma Anzai, as the only original member from when the band formed in 1997. This track was used by WWE when it was released in 2009.
13. The Final Countdown by Europe
With a keyboard riff that is unforgettable, this song is one that marching bands play at almost every game. It is another one of those songs that gets into your ear and does not let go. Most recently, it was featured in a Geico commercial where the band plays during the countdown of a lunch room microwave.
12. Rock You Like a Hurricane by Scorpions
Many sports teams use the song as their anthem. The song was written by Klaus Meine, Herman Rarebell, and Rudolf Schenker. Scorpions are a German rock band best known for their song "Wind of Change" that signaled the collapse of the Soviet Union during the cold war.
11. Fight The Good Fight by Triumph
Triumph is a band that was compared to Rush perhaps because they are a metal band from Canada but they are a powerhouse in their own right. Another rock anthem that gets the crowd on their feet and the athletes excited.
10. Glory by The Score
This song had been featured in a Dude Perfect video. The Score is an alternative rock band from New York City. Glory is the perfect rock anthem for any sports match or fight.
"(Oh-ohh-oh) I'm victorious
(Oh-ohh-oh) It's my time
(Oh-ohh-oh) There's no stopping this
'Cause I was born for this

I do it for the glory"
9. Born For Greatness by Papa Roach
A track off their eight studio album, Crooked Teeth, that was released in 2017. The song is instantly a hit with infectious lyrics and a catchy refrain. Active since 1993, Papa Roach with Jacoby Shaddix and Jerry Horton still leading the way with an amazing amount of great music.
8. Missile by Dorothy
Dorothy is an American rock band from Los Angeles. This song was featured in the ad for Call of Duty: Infinite Warfare. The lyrics are referring to something other than a sporting event but they tune is catchy and you can extrapolate to make the lyrics fit.
I am a missile
I am the fire
Love is destruction
But this war is mine, this war is mine
7. Centuries by Fall Out Boy
Centuries by Fall Out Boy has been used in ESPN college football coverage, WWE, and in Chicago at numerous sporting events. The song has the melody from the song "Tom's Diner" by Suzanne Vega. The "doo doo dodo" was recorded by singer Lolo specifically for the track. The song is on the album American Beauty/American Psycho which debuted at number 1 on Billboard 200.
6. Crazy Train by Ozzy Osbourne
This song was released on the debut solo album Blizzard of Oz from Ozzy Osbourne and is considered a guitar riff great from the late Randy Rhoads. If we listen the lyrics, the song is a statement on war.
Millions of people living as foes
Maybe it's not too late
To learn how to to love
And forget how to hate
5. Thunderstruck by AC/DC
Released in 1990. Thunderstruck is from the album The Razors Edge by Australian metal band, AC/DC. The song is played at every sporting event. You recognize the singing part where the crowd is singing, "thunder, ahhhh-ahhh-ahh". The video is a surreal scene where the crowd almost looks like they are cheering on a gladiator match at the Coliseum in Rome. But it's the band peforming with Brian Johnson singing and Angus Young doing his famous duckwalk.
4. Hit Me With Your Best Shot by Pat Benatar
In the 80s, there is Eye of The Tiger by Survivor and this song is the second most played. It launched Pat Benatar and has stood the test of time by being played at most sporting events. While the songwriter, Eddie Schwartz said the song can be taken metaphorically.
3. Eye of The Tiger by Survivor
Ah, is there another song that defines the Eighties and triumph over an opponent? Nope. The song was the theme song for the movie "Rocky III". It was certified platinum and received airplay durin the entire decade. Now to this day, if you hear this song, you want to get up and do some shadowboxing in your seat as if you could be a prize fighter.
2. Welcome to The Jungle by Guns N' Roses
If you have been alive the past thirty years, you may have heard this song at any event. The track was released in 1987 on the album Appetite For Destruction. One of the greatest rock songs of all time, the song shows Los Angeles as a gritty, dirty city where you can get anything but it will bring you down.
1. We Will Rock You by Queen
I do not think I have been to single sporting event where this song was not played. Its played at football games, baseball games, basketball games and everywhere. The rock anthem gained resurgence after the blockbuster movie, "Bohemian Rhapsody" spotlighted the legendary life of Freddie Mercury.
Regardless of what event you are at, these songs will get you in the mood to battle the other team. Are there other rock songs that should be included?
Watch all the videos here. There are some crazy hair in some of the older videos.
Resources: Wikipedia, azlyrics.com, YouTube